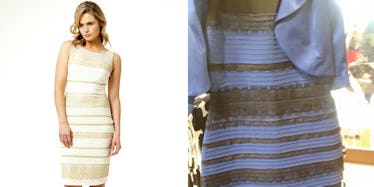 You Can Now Buy 'The Dress' In Either Blue And Black Or White And Gold
I bet you thought all that annoying talk about #TheF*ckingDress was over. I know. I did too.
And yet, here we are.
Roman Originals, the company behind the now-infamous dress that incited a Twitter meltdown, has gone ahead and created a white-and-gold version -- you know, just to screw with us.
Using its vitality for a cause, Roman Originals will auction the white-and-gold dress on eBay to fundraise for Comic Relief, a UK-based charity.
A spokesperson for Roman Originals told Daily Mail,
The dress that broke the Internet could become one of the world's most wanted dresses as an exclusive white and gold version goes on auction on eBay today. The winning bidder can grab a piece of internet history as only one exclusive dress in white and gold has been made and will go up for auction until Sunday.
So, there you have it. Feel like bidding? Head here (current bids have it priced at $474).
Ta-da.
It's white and gold.
No confusing it now.
Citations: Roman Originals, company behind optical illusion blue dress produce it in white and gold (Daily Mail)