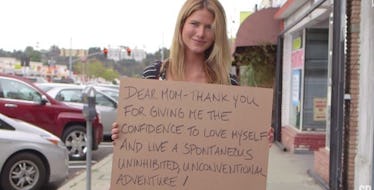 People Emotionally Tell Their Moms The One Thing They Want Them To Know (Video)
In honor of Mother's Day, the folks over at SoulPancake asked locals in Los Angeles' Atwater Village to participate in a video tribute celebrating moms and motherhood.
Participants were asked first to describe their mothers, and then, they shared one thing they wanted their mothers to know, or one thing they'd like to tell their moms.
The resulting footage is so incredibly touching: You can actually see the speakers' faces light up as they think about their unique, strong, beautiful, loving mothers.
It's easy to take our families for granted because they're so present; they've always been there.
But seeing others reflect on how important their mothers are to them will make you realize how grateful you are for your own and how lucky you are to have her in your life.
Check out the heartwarming video up top, and be sure to remind your mom how much you love her — and not just on Mother's Day. Tell her every day. She deserves it.
Citations: People Revealed The One Thing They Want Their Moms To Know And It Was Beautiful (BuzzFeed)