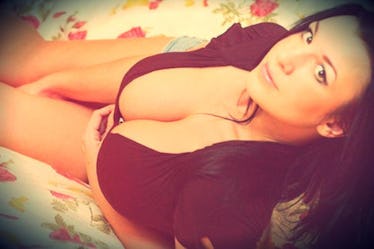 Man Escapes Death After Wife Tried To Suffocate Him By Motorboating His Face With Her 38DD Breasts
A buxom woman has been accused of trying to kill her lawyer boyfriend… with her double-D breasts. Franziska Hansen, 33 from Germany is accused of 'attempted manslaughter with a weapon' after her boyfriend claimed she tried to smother him with her breasts and pretend it was a sex game of motorboat. 
She denies the claim saying it was a sex game and he knew what it was all about.
Tim Schmidt told the German court that although they had had a difficult relationship, until then everything in the bedroom had been normal. 
'The incident happened in May – we were having sex,' he said. 'She was sitting on me naked and I was kissing her breasts. Suddenly she grabbed my head and pushed between her breasts with all of her force. 'I couldn't breathe any more, I must have turned blue. I couldn't tear myself free and I thought I was going to die.'
He said that with his last reserves of strength he had managed to extricate himself from the woman's vice-like grip and fled naked to a neighbor and demanded he called the police.
Mr Schmidt said when they met four years ago, the couple had been completely in love. 
He said: 'Everything was great between us – and I would have done everything for her. But it started to go wrong when I got my first job as a lawyer and we moved to Unna.  'She could not hold down a job and just had one part-time job after the other. And the better my career went – the worst it seemed to be for her.'
He said Franziska tried to kill him after learning he was planning to leave her. 
'It is clear she wanted to kill me,' he said. 'She even admitted it to me on the telephone. I asked her why she wanted to smother me to death with her breasts and she told me: "Treasure – I wanted your death to be as pleasurable as possible."'
Paul Hudson | Elite.