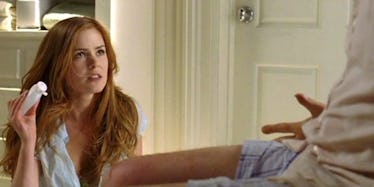 Man Tries To Cheat With Wife's Friend And Almost Gets Penis Bitten Off
Wedding Crashers/New Line Cinema
In the latest edition of Men Losing Their Penises To Angry Women (see previous examples here and here), one guy from Moldova found his manhood hanging by a thread after a woman bit it in what seems to be self-defense.
The man, identified as 53-year-old Florin Ionita, had gone on a picnic with his 49-year-old wife, Maria, and some of her friends.
At some point, Maria left to drive a friend home while her husband and one 24-year-old friend stayed behind.
Upon his wife's departure, Ionita pulled down his pants and allegedly attempted to sexually assault the lone woman.
In self-defense, she bit his penis and fled the scene.  Ionita's wife returned not long after to find her husband holding his junk and crying in pain.
According to reports, Ionita repeatedly begged his wife to call an ambulance, fearful that his penis was "going to fall off."
She obliged, and Ionita was hospitalized, but his condition remains unclear.
Ionita's alleged victim, who remains anonymous, has since filed charges against him; if convicted, he could spend up to five years in prison.
Lesson learned -- we hope.
Citations: Cheating husband has penis bitten by wifes pal and screams call an ambulance its going to fall off (Mirror UK)