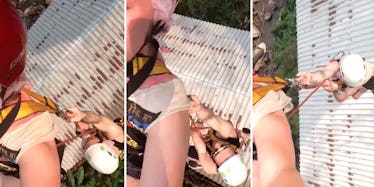 Guy Holds On For Life After Zip Line Fails And Leaves Him Stuck Mid-Air (Video)
Do you have a fear of heights?
If you do, you'll be super glad you're not this guy.
While zip lining through the jungle in Thailand, a man, identified only as Jed, fell out of his harness and was left dangling in mid-air.
Over the course of seven minutes, the poor guy clings onto a strap as a worker helps to remove him from the broken harness.
Though he jokes the whole ordeal should earn him "free beer," he also admits he's terrified, especially when he's left to hang over a rocky riverbed.
His friend Megan Reinhardt filmed the entire nerve-wracking (yet, honestly, hilarious) ordeal and later posted it to YouTube.
It's a bit long, but it's an entertaining watch, so check it out below.
Citations: Guy clings on for dear life after zip wire fails (Metro)