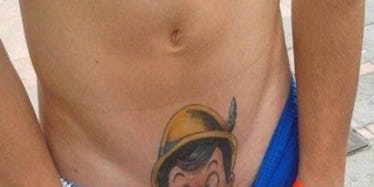 Idiot Gets Banned From Airline After Showing His Pinocchio Penis Tattoo
Pintrest
When you let boys be boys, chances are, they're going to do a lot of stupid sh*t.
Enter: 22-year-old Tom Washington.
Washington and 22 of his best bros were on their way to Majorca, Spain when they decided to start their vacation with a bang.
First, they boarded their Jet2.com flight dressed (in drag) as flight attendants. Washington, ever the mature man, decided to wave around a sex toy, mimicking the real flight attendants just for the fun of it.
When his theatrics caught the attention of some older men, Washington allegedly lowered his pants to reveal a Pinocchio tattoo right above his dick.
At that point, the manager came over and asked for Washington's passport. As a result, Washington was banned from his returning flight and eventually banned by the airline altogether.
Steve Heapy, CEO of Jet2.com and Jet2Holidays, explained,
We carry millions of families each year, so this disgusting behavior will not be tolerated. It is totally unexceptable.
He added,
We pride ourselves on giving our customers a friendly and relaxing flight experience so we will take action against anyone who causes offense and disruption to our crew and passengers.
Washington, however, calls the whole shebang "a giggle" that was taken out of context.
We're sure he got a good laugh out of it, but as for the rest of the passengers, probably not so much.
Fortunately, the airline won't have to deal with his antics anymore.
Citations: Jet2 Bans Passenger For Life For Exposing Pinocchio Tattoo On Privates To Crew (Daily Mail)