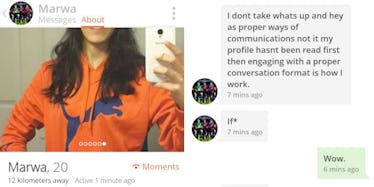 Insane Girl Freaks Out When Guy She Messaged On Tinder Is Jewish (Photos)
BroBible
Almost every person has a certain "type" or a set of qualities he or she looks for in a potential partner — a list typically gets less and less exhaustive as the time period between partners grows.
If you're at the point when you turn to Tinder to find that prospective match, you're allowed to discriminate (because that's literally the point), but you're probably not in a great position to be super picky.
Nobody told that to Marwa, the 20-year-old law student who might have just won the award for Craziest Person To Ever Use Tinder (which, considering the competition, is a fairly impressive feat).
What a short and reasonable list of demands she has.
I'm assuming he responded back because that's how conversations work.
"Hey" isn't a proper way to communicate, says the girl who opened up the conversation with "Heyy" (note the multiple Ys).
I think she's trying to make a point here, but I have literally no idea what that point might be.
I think it's safe to say the situation just escalated a bit. Hold on a second, I'm going to grab some popcorn.
Oh. That's it? What am I going to do with all this popcorn?
Citations: Girl With The Most Aggressive Tinder Profile Ever Loses Her Goddamn Mind After A Jewish Guy Dares To Text Her (Bro Bible)