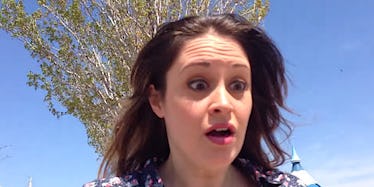 Girl Has Best Reaction When Her Boyfriend Proposes During Fake Selfie (Video)
The engagement stories we share tend to be of the grand, elaborate variety -- the sort of super romantic proposals that seem more fit for a movie than real life.
They make for interesting stories, certainly more so than your run-of-the-mill, surprise proposal.
The video below is neither elaborate nor grand, yet it's one of the best we've ever seen.
To secretly film his girlfriend's reaction to the proposal, the boyfriend urges his girl to take a selfie with him. In actuality, he's filming.
After pretending to take a photo, the guy gets down on one knee to propose. Turning the camera onto his girlfriend, he asks:
Will you marry me?
This was her reaction:
Needless to say, she said "yes."
Congratulations to the happy couple!