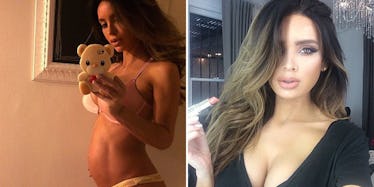 This Is What The Insanely Fit Pregnant Model Looks Like At 9-Months (Photo)
Over the weekend, Sarah Stage -- the now-famous, insanely fit pregnant model -- posted a new pregnancy selfie to her Instagram account. This one shows off her 9-month-old baby bump.
It is, perhaps, even more impressive than the original photo that skyrocketed the mommy-to-be to fitness icon status.
In the selfie, Stage poses in a bra and underwear, standing at an angle to showcase her silhouette.
At nine months pregnant, the muscles of this hot mama's six pack are still well-defined; her baby bump, which normally would be massive, barely shows.
Though many have voiced concerns over the baby's health, Stage insists, "my baby is healthy and we are happy."
I'd be happy, too, if my body were that toned after nine months of pregnancy... or ever, if we're being honest.
Check out the impressive snap below.
Citations: Model Who Went Viral For Her Pregnancy Six Pack Posts Another Insanely Fit Selfie (Cosmopolitan)