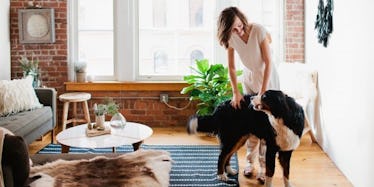 What $1,500 A Month In Rent Will Get You In Cities Around The World
Living in a city like New York or London comes with ups and downs.
You're in a bustling, exciting city, but likely spending most (or all) of your money on a tiny apartment that barely has a full bathroom.
Location has always been the reason a house or apartment is either dirt cheap or widely expensive.
If you have $1,500 to spend on rent, you could be living in someone's basement, or a in huge house in a gated community, depending on where you are.
Here's what $1,500 in rent can get you in 13 major cities across the world.
New life goal: Move to Johannesburg.
New York City (Manhattan)
There's no doubt finding affordable housing in New York can often be comical. There's even a blog that pokes fun at the grueling process.
Hilariously enough, a quick search for NYC apartments that run for $1,500 a month in downtown New York brought up zero searches on multiple platforms.
But if you want to stay in Manhattan, you can score apartments for $1,500 in northern Harlem, Inwood and Washington Heights, which are all at the northern-most tip of the island.
This gem is a co-op, 900-square-foot basement unit in Washington Heights with a "funky layout," and your own patio and private entrance.
If you're lucky to find something around that price range in downtown Manhattan, be prepared to give up having a kitchen or your own bathroom.
San Francisco
It's doesn't get better in San Francisco. Home to major tech companies and startups, it is home to quite the affordable housing crisis.
For $1,540, you can crash at this (furnished!) 200-square-foot in-law (meaning it's a suite carved out of an existing home or stand-alone dwelling built on someone else's property).
The real plus is that you have full access to the outdoor hot tub.
Atlanta
Things get sweeter in The South. For $1,500 a month, you can live in this whopping 1,429-square-foot condo with two bedrooms and two bathrooms, right in downtown Atlanta.
The condo amenities feature a pool, fitness center and covered parking.
Dallas
They do say everything is bigger in Texas. In Dallas, $1,495 a month will get you a five-bedroom, two-and-a-half-bathroom house with a two-car garage, central heat and air, standard appliances and a large, surrounding yard.
Detroit
Detroit, after being plagued with bankruptcy, is seeing its home prices plummet. The same goes for rentals.
Realtor.com has recently rated Detroit among the most affordable housing markets in the nation.
While Detroit may not be anyone's ideal place to live right now, $1,500 is likely to get you a decent sized house, or your dream bachelor pad.
This 1,400-square-foot loft is complete with a rooftop deck, a Jacuzzi and some swanky-looking stairs.
Miami
For $1,500 in Miami, you can expect to live in a sun-soaked, renovated building, likely with a pool and fitness center.
This 1,071-square-foot luxury rental in downtown Miami for $1,550 a month boasts two bedrooms and two bathrooms, renovated appliances and a very inviting pool.
London
London is the New York of the UK, in the sense that its real estate price-to-size ratio can be outrageous, and that living in Central London, as opposed to some of the outer suburbs, will compromise on your space.
For a little over $1,500 a month, you can live in this furnished studio in a central location, although it looks to be quite the squeeze.
Dubai
Dubai thrives off of superlatives: biggest, tallest and most extravagant, so it's only natural its real estate prices are on the rise, especially if you want to live in more coveted areas like downtown Dubai or Dubai Marina.
But, for $1,500 a month, you can get a pretty sweet deal for a spacious one-bedroom or studio that may not be right in the center of the action.
This apartment is 800 square feet, features one bedroom, one bathroom and access to amenities like a balcony, central heat and air and a shared pool and gym.
Here's the catch with Dubai: Rent is paid in total on a yearly basis.
Tokyo
For roughly $1,500 a month in Tokyo, you could live one of many architecturally feng shui apartment buildings.
This one-bedroom is nearly 400 square feet, furnished, and boasts a balcony and it's own washer and dryer. Not bad, Tokyo.
Johannesburg
Shelling out approximately $1,500 a month in the South African capital can land you stunning, three-story homes in gated estates. You read that right.
This four-bed, three-bath home presents incredible views and features a garden, pool, garage and outdoor patio area for grilling. I'm sold.
Moscow
Despite numerous sanctions on Russia, the ruble has recently rallied, and Russia's economy looks to be on its way to getting stronger, so don't expect too many steals here.
But overall, you can get a solid studio or one-bedroom for $1,500 a month. Check out this quaint studio, which boasts "western renovations," that's furnished and comes with all appliances.
Sydney
The catch with Sydney is that you have to pay your rent every week, but when it adds up to $1,500 a month, you can find modern studios and one-bedrooms located in the downtown area.
For that price, you can live in this fully-furnished studio on the 23rd floor, with free access to building facilities including a swimming pool, sauna, gym, table tennis and pool table.
But beware, Sydney is one of the most expensive cities in the world for public transport.
New Delhi
The capital of India is no doubt a tourist attraction, being a bustling city home to religious sites and beautiful architecture.
It's also a great place snag some sweet deals, whether that's a pair of Levi's or a house.
For roughly $1,500 a month, you could live in this three-bedroom, three-bathroom home with a 1,800-square-foot ground floor in a gated community with 24-hour security.
Furnishings do come at an extra price, but who needs that when the home comes with an elevator and a "maids quarter?"