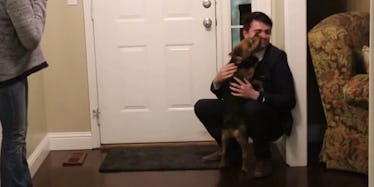 Dog Completely Freaks Out When Owner Returns Home After 2 Years Away (Video)
Dogs are insanely loyal -- not to mention incredibly loving -- creatures. That is, of course, what makes them such wonderful pets.
Sometimes, however, it's easy to forget animals can actually feel.
This video is a beautiful reminder that they can and do -- and they appreciate their owners as much as their owners appreciate them.
Nathan Back was sent out on a two-year mission for the Mormon church back in 2013 and had to leave his beloved beagle Bailey behind.
Last month, Back finally returned home to his now-3-year-old pooch.
The video above shows her emotional reaction.
Citations: Dog Totally Loses It After Owner Returns From 2 Years Abroad (Huffington Post)