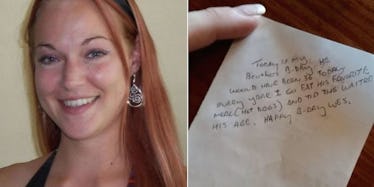 Customer Leaves Waitress A Note And Generous Tip On His Late Brother's Birthday
A man remembering a lost brother and a woman waiting tables met for only a few minutes, but they'll never forget one another.
In a viral post to Reddit's /r/pics, Tennessee waitress Claire Hudson uploaded a photo of a bittersweet note she'd found penned on the back of her receipt during a recent shift at Mac's Grub Shak in Spring Hill.
The customer reportedly tipped $36 on a $30 bill and let her know about a tradition of his.
The note explained the meal was a celebration of his now-deceased brother's birthday, and Wes would have been turning 36.
Each year since his brother's death, the mourning man has made a point to eat a hot dog and tip the waiter or waitress Wes' age.
Hudson told ABC News she wishes she had seen the note before the man and his partner left her restaurant, but she added,
They did it anonymously and it was really sweet.
The staff of Mac's Grub Shak hopes to find the man who left the note because it has a special surprise for him.
Hudson explained,
We want to see what his brother Wes liked on his hot dogs because we'd like to name a hot dog after him.
Hudson never expected the receipt she picked up to be a dedication to a lost family member.
Today is my brother's b-day. He would have been 36 today. Every year I go eat his favorite meal (hot dogs) and tip the waitress his age. Happy b-day Wes.
The waitress, who reportedly lost a close friend of her own, was touched by the sentiment.
Citations: Tennessee Waitress Receives Tip That Brought Tears to Her Eyes (Good Morning America)