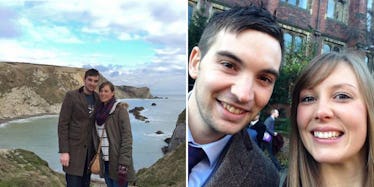 Childhood Sweethearts Born Two Hours Apart At Same Hospital Get Married
Facebook
Not everyone believes in fate, but this story makes a pretty convincing case for its existence.
David McDermott and Sophie Coles were born less than two hours apart in the same hospital, and now, 26 years later, the lifelong sweethearts are getting married.
Though the two lived around the corner from one another and attended the same elementary, middle and high schools, they didn't share their first kiss until they were 16.
And they've been together ever since.
After high school, McDermott and Coles went on to attend the same universities: Guthlaxton College and Leeds University.
After graduating, they traveled around India and Australia for seven months before getting engaged in Amsterdam.
Their wedding, which will take place next weekend, falls on the 10-year anniversary of their first kiss and will even be in a nearby church in Leicestershire, England.
Coles calls their lives' similarities "quite odd," but she believes "it is meant to be."
She continued,
They're so similar... we've even bought each other the same presents and once we bought each other Coldplay tickets and ended up with four between us.
You have to admit the many similarities between their lives are almost impossible.
It's almost as if they really were fated to be together from the very day they were born.
Citations: Wigston sweethearts born hours apart at same hospital ward to marry (Daily Mail)