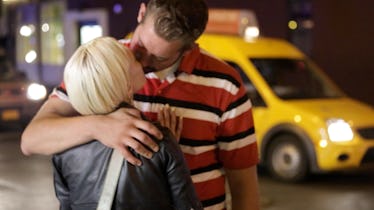 Meet The Homeless Man Who Survives By Going Home With Women And Looking Good (Video)
If you were homeless, could you still pick up chicks?
Meet Joe, the homeless Millennial who has mastered the art of getting women to take him home with them.
Originally from Boston, Joe, 26, may spend his daylight hours panhandling in Manhattan – making up to $150 on a given day – but his nights are a completely different ballgame.
If you don't think Joe looks homeless, well, that's only because he's good at what he does. According to Joe, his only responsibility is to not look homeless. In his mind, his appearance is a survival tactic.
Joe spends whatever money he makes on keeping his appearance up, in addition to copious amounts of drugs and booze, with one goal in mind: attract as many girls as possible.
For Joe, sleeping with a lady is his only chance at sleeping with a roof over his head. Joe uses his charm and good looks to sleep out with chicks three to four nights a week, where he'll shower and enjoy an evening away from the streets.
After meeting Joe – about a block from our office – the Elite Daily Video Team spent over a week with him, chronicling his epic lifestyle and learning about the hardships and triumphs of one "cardboard all star."
For more original videos docs and series, subscribe to the official Elite Daily YouTube Channel.