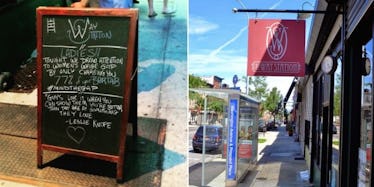 Brooklyn Bar Fights Wage Gap By Charging Women 77 Cents To The Dollar
A Brooklyn bar filled to capacity last night, thanks to a one-time offer inspired by America's gender wage gap.
According to The Guardian, on Tuesday night, female customers at The Way Station in Prospect Heights were charged 77 percent of what their bar tabs should've been.
Bar owner Andy Heidel came up with the idea after learning American women only make roughly 77 to 78 cents for every dollar made by men.
The Guardian reports Heidel said,
I have three sisters. The majority of my staff and friends are women. I thought this would be a great way to even the playing field even if it was for one night only.
With this one-night deal, a woman paid about $3 for a drink that cost a man $4 at the same bar, Fox5NY reports.
By 11 pm, an estimated 90 people were in attendance, leaving little, if any, room to stand.
Heidel realized he would soon have to turn customers away, so he asked the bar across the street, 706 Bar, to offer the same discount. His request was granted.
The goal, Heidel said, was to start a conversation about the unfair treatment of female workers in the US; in 2013, women made about $10,800 a year less than men, on average.
A regular told Heidel, who drew a much larger crowd than expected, his bar's deal "touched a nerve."
However, the bar owner also watched men complain about price discrimination as they walked by The Way Station on Tuesday, and he turned down any customers who did not agree with the price difference.
He said,
This is weeding out the assh*les, and it's working. It's 85 percent women in there, and that's fantastic.
Heidel intends on offering the deal again next year, but maybe under different and slightly better terms. He continued,
Hopefully next year, we can do this on 8/5, instead of 7/7.
The special lasted until 2 am, and after last call, Heidel stood outside his bar to thank customers for dropping by.
Citations: New York bar tackles gender pay gap by charging women 77 of bar tab (The Guardian), Women pay 77 cents on the dollar at Brooklyn bar (Fox5NY)