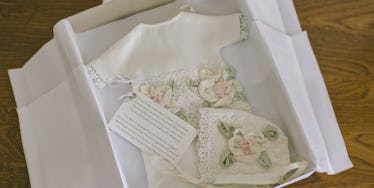 Brides Are Donating Wedding Dresses To Make Gowns For Babies Who Died
Holly D. Gray
There is nothing more tragic than the death of a baby.
It seems cruel and unfair for a child to be given a chance at life, only to have that chance taken away so quickly.
For a grieving parent, there's nothing that can truly mend the pain of the loss of a child, but kindness and the support of others can help.
That's the idea behind the NICU Helping Hands' Angel Gown Program, which turns donated wedding dresses into burial gowns for babies who've passed away.
The program launched in 2013 as a way to help support the families that had lost a baby.
According to president Lisa R. Grubbs,
Our program is an acknowledgment that the child mattered even in death -- that the life had been meaningful regardless of how long the child lived.
The organization runs entirely on donations and volunteer work.
All of the wedding dresses are donated from brides who want to help, the seamstresses all work on a volunteer basis and overhead costs are entirely covered by the generosity of financial donors.
Additionally, volunteers run support groups and mentoring programs for those families that need additional guidance through the healing process.
Last year, the organization received over 8,000 donated dresses and amassed a network of more than 700 volunteer seamstresses who worked together to create the refitted gowns.
The Helping Hands website refers to each burial gown as "a gift of love" that helps honor the baby and the family.
But it's about more than simply gifting. The gowns serve as a symbolic reminder to the family that it's okay to grieve.
As Grubbs insists,
Grief is not a moment or an event -- it is a process, and a long, difficult one... Providing this garment, along with caring and support, gives validation to the parent and also sets a more positive foundation for this journey.
You don't have to be a bride to help: Learn more about NICU Helping Hands, the Angel Gown program and what you can do to provide support for families in need here.
Citations: Brides Are Turning Their Wedding Dresses Into Burial Gowns For Babies Who Have Died In The NICU (Buzzfeed)