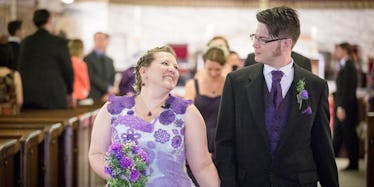 Bride Spent 1,000 Hours Crocheting An Amazing Dress For Her Wedding
Tania Jennings has been crocheting all her life, but it wasn't until recently she finally made something for herself: a wedding dress.
Jennings, who tied the knot in June at St. Pancras Church in London, estimates she spent around 1,000 hours on a custom overlay she made for the dress. She adorned the gown with lace pieces to represent people in her life: There was an elephant for her daughter and even flowers for her in-laws.
The original dress, designed by a family friend, was made out of silver satin material and looked more traditional at first, but Jennings decided it needed something more.
Inspired by a crocheted wedding dress she saw online, Jennings then got to work crocheting an overlay for the dress.
All in all, she made approximately 150 pieces, in varying shades of ivory and purple, for the dress.
She'd managed to complete it just moments before walking down the aisle.
In an interview with Huffington Post, Jennings said,
I spent most of the night before the wedding working on the dress, taking a little nap of an hour or two around 4 a.m. to recharge. I think everyone else was very anxious as my bridesmaids kept asking me how I could be so calm. But for me, crocheting is so relaxing that I just had to smile and keep going, knowing that the dress would tell me when it was ready.
Luckily, it did in time -- and it was perfect.
Check out some photos of the beautiful custom dress below.
Jennings started with hundreds of individual pieces...
...and sewed them all together to create a slip to go over her wedding dress.
Each piece she created represents a moment or special person in her life.
She told ABC News, "It became a kind of game at the reception for everybody to find 'their' piece."
In the end, the dress turned out beautifully.
She explained, "As soon as I walked into the church everyone just smiled because the dress was so 'me.'"
She added, "It was so light and flowed... just as I'd hoped."
Congratulations to the beautiful bride!
Citations: This Talented Bride Spent 1 000 Hours Crocheting Her Own Wedding Dress (The Huffington Post)