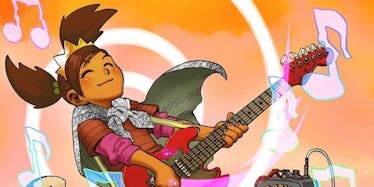 Finally! There's A Fairytale Story With A Princess Who Saves Herself
Takeshi Miyazawa
Once upon a time, there was a princess who didn't need a man to rescue her from peril.
The royal little girl, who spends her time playing the electric guitar, is the protagonist of an unique, crowdfunded children's book called "The Princess Who Saved Herself."
Author Greg Pak, who based the story on a Jonathan Coulton song, was overwhelmed by the popularity of his plot when it was first introduced.
He'd set his Kickstarter goal at just $15,000, only to receive more than $65,000 from no less than 1,700 backers.
Wondering what this princess has to offer? Per the book's Kickstarter:
[It tells] the story of an awesome kid who lives with her pet snake and plays rock 'n' roll all day to the huge annoyance of the classical guitarist witch who lives down the road. Hijinks, conflicts, and a fun reconciliation ensue, all showcasing determination, bravery, and understanding.
Copies of the book will soon be distributed to the backers of the fundraising effort.
Interest is so strong in the fairytale, Pak and his team, including illustrator Takeshi Miyazawa, are still working to accommodate the demand.
They even created a companion activity book.
It seems parents are eager to buy their daughters a whole new kind of adventure book.
Instead of waiting for a handsome prince, some princesses would rather solve their own problems.
Citations: A kids book about princesses who save themselves (Boing Boing)