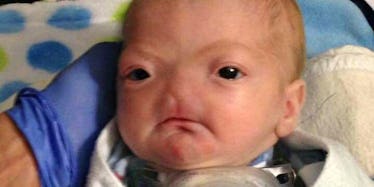 Miracle Baby With An Extremely Rare Condition Was Born Without A Nose (Photos)
Facebook
Every child is unique, but Timothy Eli Thompson is rare beyond belief.
The little boy, born completely without a nose, is one in 197 million.
The Alabama Media Group reports the nearly month-old infant is one of less than 40 people worldwide to have complete congenital arhinia. Because of the way Eli's palate and head developed, he lacks an exterior nose, nasal cavities and the olfactory system.
In spite of his condition, however, his mom, Brandi McGlathery, says he's a cheerful baby.
After McGlathery and Eli's father, Troy Thompson, recovered from the shock of bearing a child without a nose, they fell down the rabbit hole of endless hours in the NICU.
Eli was reportedly born at just 37 weeks and, after a few days in a tiny oxygen mask, he received a tracheotomy to aid his breathing.
McGlathery and Thompson finally took Eli home Monday, according to a Facebook update made to the community page "Eli's Story." The public update is fitting; the first weeks of Eli's life have been a community effort.
A GoFundMe page set up to aid with medical costs raised over $7,000 of its $5,000 goal.
Big plans are in store for Eli, who will finally be allowed to spend time with his siblings, McGlathery's son, Brysen, and Thompson's daughter, Ava.
McGlathery, who says Eli "makes me feel like I'm doing something right," told the Alabama Media Group her son's birth made her family whole once more.
She and Thompson, who'd just broken off their engagement when she discovered her pregnancy, are working together in a new way.
And as for a plastic surgery-built nose?
Eli's parents said it's a choice he can make when he's much older.
Citations: Miracle baby Eli is one in 197 million born with rare facial anomaly (Alabama Local News)