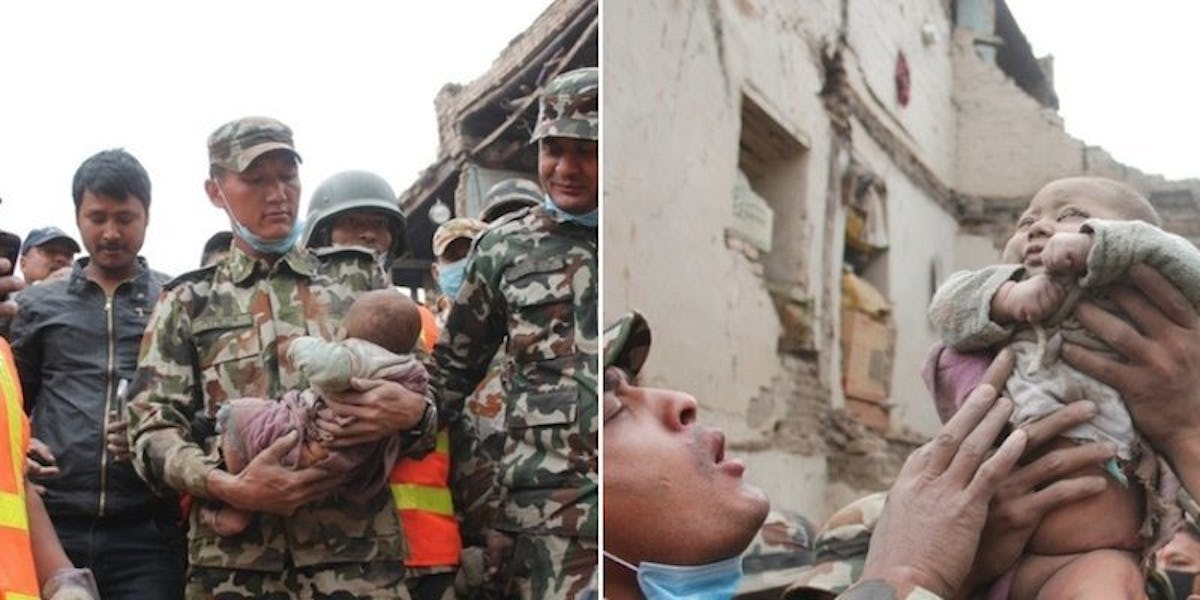 5-Month-Old Baby Was Miraculously Rescued From Rubble After Earthquake
Kathmandu Today
A Nepalese baby, around 5 months old, miraculously made it through Nepal's recent earthquake and the collapse of his home.
CNN reports the infant was discovered alive 22 hours after being buried under a pile of debris.
When the earthquake began shaking the ground this past weekend, the baby's mother, Rasmila Awal, was at a store near their Kathmandu, Nepal home, while the father, Sham Krishna Awal, worked.
The desperate parents immediately returned home and began a frantic search through the detritus for their children.
Although rescuers uncovered 10-year-old Soniya after only two hours of hunting, the family's youngest member remained missing.
Hours later, Sham heard his child crying under the wreckage.
Unfortunately, the rescue crew of soldiers already finished searching for the night.
The next morning, they returned and dug for the baby.
Incredible photos from the scene of the rescue show the moment the baby was pulled from the dust.
Nearly a full day after he was buried, he was reunited with his family.
CNN notes the Awal family lost everything they owned in the earthquake.
Like so many other Nepalese citizens, they are forced to begin their lives again.
The earthquake's estimated death toll is anywhere between 5,000 and 100,000 people, according to The New York Times.
The Awals are some of the lucky few with families still intact.
The little guy, who only suffered light bruising, is one lucky baby.
Citations: Baby pulled from Nepal earthquake rubble after 22 hours (CNN)