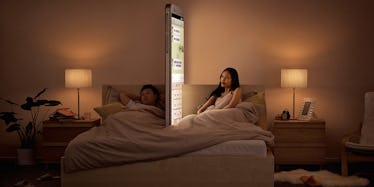 Compelling Ads Reveal The Impact Phone Addiction Has On Relationships (Photos)
Ogilvy & Mather China wants you to recognize the wall you put up between you and your loved ones when you constantly check your cell phone.
The series is called "Phone Wall," and it was made to promote the Center for Psychological Research, Shenyang, a government body focusing on raising awareness about various societal issues.
"Phone Wall" is a powerful campaign that shows the divides our phones can put between us and our loved ones.
Juggi Ramakrishnan, the executive creative director of Ogilvy & Mather Shanghai, told Huffington Post the series was made to start a discussion about screen addiction -- a major problem in Chinese society.
Of the photo series, Ramakrishnan said, "We want people to see this and rethink their relationships with others and their phone in a different light."
The executive creative director went on to point out how screen addiction can have negative effects on a couple's relationship as they become less open to meaningful and uninterrupted conversations.
It can also have crushing repercussions on how people interact with their children; if parents are always looking at their phones, their children often get ignored. Ramakrishnan told Huffington Post,
It's almost like dealing with sibling rivalry. Except that the rival is a new electronic device. This trend, if unchecked, can lead to psychological problems.
He continued, "The people in our lives should get priority over devices."
Hopefully, this series will lift people's eyes up above their screens and onto more important aspects in their lives.
Citations: Powerful Ads Show What Your Child Sees When Youre Addicted To Your Phone (Huffington Post)