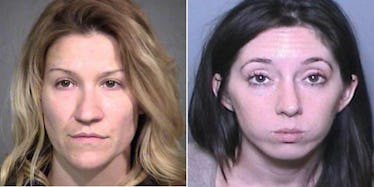 Bitter Woman Tries To Get Raped Via Craigslist So She Could Frame Fiance's Ex
Police
If you thought the drama between you and your boyfriend's ex was fierce, then you clearly haven't read about Angela Diaz and Michelle Hadley yet (brace yourselves).
I'll try to make this as clear as possible: Michelle Hadley, 30, was engaged to an unnamed US Marshal from 2013-2015. They broke up in August 2015 after getting engaged in a "whirlwind romance," DailyMail.com reports.
Angela Diaz, 31, married the same US Marshal in February 2016 after meeting him on an online dating website. This is where things went haywire.
It's been reported Diaz is accused of posing as Hadley by sending herself multiple disturbing emails, which included threats toward Diaz's unborn child (she was faking that pregnancy), photos of decapitated bodies and aborted fetuses.
Diaz even claimed Hadley was posing as her and responding to rape fantasy ads on Craigslist, even though it was actually her doing so.
In these responses, Diaz sent over her own personal information and invited men to come over and have sex with her, telling them not to stop if she resisted. In fact, law enforcement intercepted two different men on their way to engage in rape fantasies with Diaz.
She even claimed one man was successful in attacking her, coming to the police station to file a report. In the end, it was all a ruse to make Hadley look like she was attempting to hurt Diaz.
Diaz got a restraining order against Hadley, and then provided "evidence" that Hadley was continually violating it.
Hadley, the actual victim in the case, was arrested over the summer and accused of posing as Diaz online by replying to the rape fantasy ads with Diaz's personal information.
Her bail was set at one million dollars, and she was in jail from July to October.
At this point, Diaz was successful in her elaborate scheme of making it appear Hadley was stalking and harassing her.
Hadley was charged with stalking, stalking with a restraining order, criminal threats, six counts of attempted rape, an attack in Diaz's garage (which, again, was fake), violation of a protective order and crime-bail-crime enhancement.
In reality, Hadley had done none of these things.
According to Richard Zimmer, Deputy District Attorney, suspicion that the wrong woman was jailed grew when authorities dug deeper into the servers Diaz emailed herself on.
He said,
The aha moment came after we spent a few months trying to unwind the third party proxy servers.
Apparently, Diaz had used eight different email addresses while posing as Hadley and covered the IP addresses to hide the fact she was sending them to herself.
However, authorities soon found out the IP addresses for the threatening emails to Diaz were actually sent from Diaz's cell phone, as well as her condo and her father's apartment.
Once authorities realized Hadley was innocent, Zimmer said,
This is actually one of the most unusual things I've seen in my career. The amount of planning, the effort, the sophistication, the amount of time that went into framing Ms. Hadley was incredible.
Hadley was quickly released from jail, and Diaz will be extradited to California where she will be charged in court.
Hadley has officially gotten justice after she spent three months in jail thanks to Diaz's unusual and extreme revenge plot.
Oh, Diaz and her husband are getting divorced, too.
PHEW.
Citations: Woman Jailed for Posing as Ex-Fiance's Wife to Post 'Rape Fantasy' Ads Online Was Framed: Orange County DA (KTLA), Wife of US Marshall 'framed her husband's ex and had her jailed for months by claiming she arranged for her to be raped by strangers via Craigslist - then lied about being pregnant AND having cancer' (DailyMail.com)