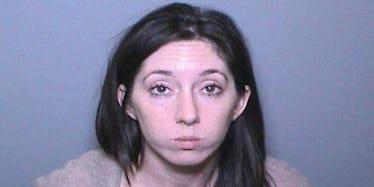 A Woman Posed As Her Ex's Wife On Craigslist And Asked For Men To Rape Her
Orange County District Attorney
Michelle Suzanne Hadley, a 29-year-old woman from California, has been accused of posing as her ex's pregnant wife on Craigslist and responding to men who were asking for someone to fulfill their rape fantasies.
Hadley has also been accused of using the victim's pictures and personal information to post her own rape fantasy advertisements, telling men to come over and have sex with her against her will, even if she "screamed or resisted."
Some men actually showed up to the couple's house and attempted to fulfill the "fantasy." One even got violent with the victim before she could call for help.
This isn't the first time Hadley has done this.
Her first arrest for responding to these advertisements on Craigslist was on June 24, but she was released on $100,000 bail the same day and continued doing it, which led to her being arrested again on July 14, according to an Orange County DA press release.
Hadley has an extensive history with the victim.
In June, she violated a protective order that prohibited her from contacting her.
She used multiple servers and computers to threaten the victim's life and the life of her unborn child, and she made disparaging comments about the victim's husband.
Hadley had dated the victim's husband, a US Marshals Service agent, from 2013 to 2015.
Hadley's bail is at $1 million. The investigation is ongoing, but if convicted, she could face up to life in prison.
Citations: California woman solicited 'rape fantasy' sex on Craigslist pretending to be ex-boyfriend's wife (NY Daily News), WOMAN CHARGED WITH STALKING, THREATENING, PRETENDING TO BE PREGANT WIFE OF HER EX-BOYFRIEND, AND RESPONDING TO MEN SOLICITING "RAPE FANTASIES" ON CRAIGSLIST (ORANGE COUNTY DISTRICT ATTORNEY PRESS RELEASE)