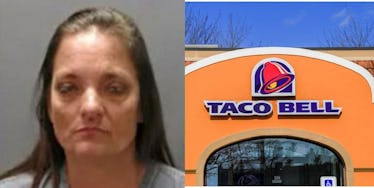 Woman Offers Policeman Oral Sex For Two Soft Shell Tacos Totaling $2.14
Police/Shutterstock
One of five women arrested in a prostitution sting in Florida allegedly offered to perform sex acts for an undercover cop in exchange for Taco Bell.
Buffy Suzanne Bryan, 47, of Jacksonville, has been charged with offering, committing or engaging in prostitution or assignation. Police say this was the ninth time Bryan had been arrested for prostitution.
According to police reports, four of the women offered to perform a sex act on an undercover detective in exchange for money.
The fifth woman, however, told a detective posing as a customer that she would perform oral sex on him in exchange for two soft shell tacos from Taco Bell.
In case you were wondering, two soft shell tacos from Taco Bell cost $2.14.
All women involved were arrested and face numerous charges.
It is not the first case of so-called 'survival sex' the Jacksonville area has witnessed in recent months.
Late last year, four women were arrested in a city-wide crackdown on prostitution, Jacksonville Sheriff's Office said at the time.
All women, whose ages ranged from 29 to 52, had offered to perform oral sex on an undercover cop for the small sum of $23, according to arrest reports.
A total of 12 men were also arrested on suspicion of soliciting for prostitution.
Survival sex involves someone selling their body for little cash in order to buy everyday essentials we take for granted such as food and clothing.
Carl Siciliano, director at Ali Forney Center, a housing charity for young people in New York City, said in 2015 these circumstances are rife among the LGBTQ+ community where a homeless person may be scared of seeking shelter out of fear they will be victimized by other residents because of their sexual orientation.
He said,
If kids are frightened to go to the shelters, they're going to have to turn to survival sex to survive.
Citations: Police: Woman arrested in prostitution sting offered sex act for Taco Bell (News4JAX)