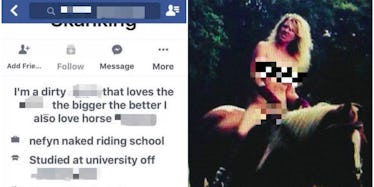 Woman Posts Neighbor's Bizarre Nude Horseback Riding Pics To FB For Revenge
Facebook
A woman made a fake Facebook page about her neighbor claiming she runs naked horse lessons and will "suck off" customers.
Erika Benedikta, 51, distributed posters and uploaded topless photos of Alison Ramsden, 46, riding a horse.
The flyers were taped to lampposts around the village of Llithfaen in Wales. They read,
I offer naked horse riding on the comfort of your own land. I can fulfil all your equine fantasies. No fantasy too big or small. Call me night or day for the ride you'll never forget. Money back if you're not satisfied.
A Facebook page launched with an offensive name included topless photos of Ramsden she says were taken in private and intended for her boyfriend's eyes only.
One was uploaded with the caption,
Naked horse lesson available and if any good I will suck you off.
The Facebook profile claimed she studied at the "university off [sic] sucking cock."
Ramsden said the campaign of hate was so intense she was scared to leave her home.
She told The Sun,
It left me in the depths of depression and I was afraid to leave the house. I was terrified people would believe I was actually a prostitute. The naked photograph was a private picture only meant to be seen by my partner. It was definitely not intended to be plastered all over my village of 4,000 people. It was mortifying to know all of my family, friends and neighbors had seen such an intimate photograph of me.
Caernarfon Crown Court heard how the pair met through their love of horses but fell out after Benedikta refused to pay Ramsden for a puppy she had taken home.
Beneditka admitted causing harassment and sending abusive messages and was ordered to do 200 hours of unpaid community work.
She was handed a three-year restraining order in addition and will also pay hundreds of dollars in compensation and costs.
Citations: Woman is wrongly branded a prostitute when feuding neighbour plasters pictures of her naked on a horse around their village (Daily Mail)