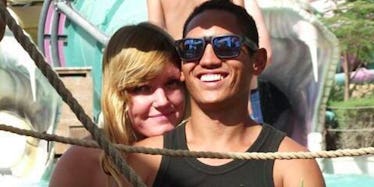 Woman Discovers Pregnancy On Vacation And Is Arrested For Sex Before Marriage
Facebook
An engaged couple could be sent to jail after the woman found out she's pregnant while on vacation in Abu Dhabi.
Sex outside marriage is illegal in the strictly conservative United Arab Emirates, and the South African man and his Ukranian fiancée have been detained, according to his mother.
Emlyn Culverwell, 29, and Iryna Nohai, 27, allegedly went to see a doctor because Iryna was suffering from stomach cramps during their vacation.
The doctor told them it was because she was pregnant — and promptly alerted police, who arrested the couple, Emlyn's mom, Linda Culverwell, said.
She told South African website Netwerk24 she was concerned Iryna's stomach cramps could have been the signs of a miscarriage.
Iryna is reportedly undergoing tests to determine how long she has been sexually active, Linda added.
She said,
I can imagine the hell she is going through. It must feel as if she is being raped by the authorities. The only thing they did which was wrong, was to fall in love. It makes no sense. We are trying to get messages to the two to say we love them and that they shouldn't be worried. What concerns me most, is that we actually haven't got a clue how they are.
South Africa's foreign ministry has admitted it can't help, as it is a matter of domestic law in the UAE.
The couple got engaged on January 27 and have been detained since January, though news of their ordeal has only just emerged.
Nelson Kgwete, a spokesperson for the Department of Internal Relations in South Africa, said,
The South African Government is aware of the case, but unfortunately cannot provide legal assistance. As (the) department all we can do is monitor the situation and try to ensure that they are fairly treated.
Emlyn's parents said they can't contact the couple and don't even know if they have their own legal representation.
Citations: 'Only thing they did wrong, was fall in love' - mom of man arrested in UAE for premarital sex (Netwerk24)