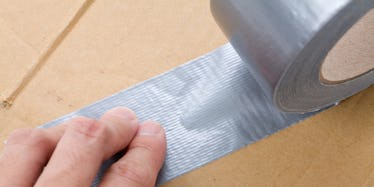 Woman Duct Taped Her Dog's Mouth Closed Because It Wouldn't 'Shut Up' (Photo)
Shutterstock
A woman is under investigation due to a photo of her dog with duct tape over its muzzle.
According to the Orlando Sentinel, Facebook user Katie Brown posted the picture Friday morning alongside the caption, "This is what happens when you don't shut up!!!"
Brown's Facebook page lists her residence as South Daytona, Florida, where police were bombarded with calls from all over the world to launch an investigation shortly after the photo was posted.
South Daytona Police Lt. Daniel Dietrich told the Orlando Sentinel on Saturday his department received enough phone calls and emails to shut down its email server and ignite "issues" with phone lines.
The mass outcry in response to the photo prompted an explanation from Brown.
She also came to realize someone posted a photo of her car in an attempt to track her down.
A November 28 post on the City of South Daytona's Facebook page confirmed the dog, who appears to be a chocolate Labrador, "is OK at this time."
Brown reportedly has family in Avon, Connecticut and allegedly moved there from Florida about a year ago.
Jon Nowinski, director of operations at the Connecticut Emergency Animal Response Service, told the Orlando Sentinel his organization already received scores of calls containing information that may lead to Brown's arrest.
EARS is currently working with the Avon Police Department to pinpoint the woman's location.
The City of South Daytona wrote on Sunday local police "are still following leads" even though the case is now also with Connecticut authorities.
Citations: Facebook photo of dog's muzzle taped shut garners worldwide attention (Orlando Sentinel)