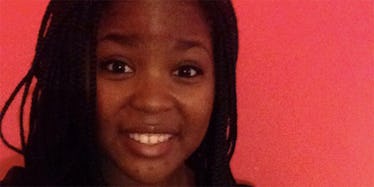 Student Commits Suicide After College Ignores Frat House Rape, Lawsuit Says
Facebook/Cherelle Locklear
A 21-year-old woman tried to commit suicide after her alleged rape at a frat party. When a lack of investigation into the assault by the university ensued, she hanged herself.
Those are the raw and chilling sequence of events experienced by Cherelle Locklear, a student at William Paterson University in New Jersey, all according to a lawsuit filed by her mom on September 8.
According to NJ.com, Marquesa Jackson-Locklear's suit states,
Cherelle described the circumstances of the rape and identified the perpetrator and directed Bivaletz to report the rape to the university police department. Even after receiving the report of the sexual assault, the university police department utterly failed to perform an appropriate and thorough investigation.
The details of Cherelle's story, according to the suit (as reported by multiple outlets), are as follows:
Cherelle was raped during a party at the Sigma Pi fraternity house just off the campus of William Paterson on September 25. About three weeks later, on October 15, the college senior attempted suicide via overdose.
The attempt was unsuccessful and landed the student in the hospital for five days. On October 26, the 21-year-old reported the details of her rape and suicide attempt to the school's Victim Services Coordinator and identified her alleged abuser in the process.
The coordinator, however, didn't report the account to campus police until "sometime in November," according to Vice's Gabby Bess.
On November 22, Cherelle's roommates found her hanging by a necktie in a bathroom. Meanwhile, the suit claims the suspect was not "confronted or charged."
According to Vice, William Paterson, Sigma Pi Fraternity, university Victim Services Coordinator Theresa Bivaletz and involved officers are named as defendants in the suit.
If the details of the suit are indeed true, the lack of speed in investigating the rape would be in clear contradiction of Title IX, which federally mandates schools swiftly investigate instances of sexual assault.
William Paterson, for its part, released a statement on Tuesday that read,
We are, of course, saddened by the loss of a student under any circumstances, and particularly when the loss comes about by suicide. We are aware of the lawsuit filed by the student's mother and are unable to comment on any such legal matters. The university will continue to focus on the safety and well-being of all of its members and offers a variety of counseling resources for students who seek help with personal challenges.
Whether or not the suit is successful, the lawsuit reiterates a pattern of failing to take action among universities regarding a number of complaints made across the country.
Citations: Student Hanged Herself After University Failed to Investigate Rape, Suit Claims (Broadly), Student killed herself after college botched rape probe, suit alleges (NJ.com)