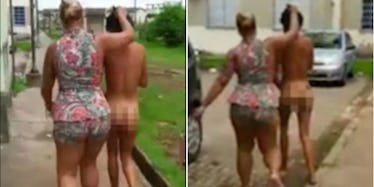 Wife Drags Love Rival On Naked Walk Of Shame After Catching Her With Husband
MailOnline
In the run-up to Valentine's Day, here's a reminder that Hell hath no fury like a woman scorned.
Bizarre footage has emerged of a furious wife marching her husband's completely naked side chick through the streets of Brazil.
The wife, who has not been named, allegedly discovered the affair when she walked into her home in Sao Paulo and found her husband in bed with his mistress.
But her husband seemed to escape any kind of public humiliation, as the wife instead focused on the woman, 20, MailOnline reported.
Pulling the younger woman by her hair, the wife forced her to take a naked walk of shame past nearby apartment blocks.
Not only that, but her teenage sons and their friends followed the humiliating parade, filming the ordeal and shouting to attract attention and make more people notice what was going on.
Again, why she did this to the woman and not her slimeball husband, I have no idea.
However, he is set to face some kind of backlash, as his wife posted on social media,
I do not give a damn what they think or stop thinking. I'll show you how you deal with the traitors of a married man. I just got this slut with my husband, ex-husband from today.
It is believed she followed her husband to their home before confronting the couple.
The women were pictured wrestling on the bed, and the wife reportedly slashed the side chick's hair with a razor before ripping her clothes off.
The family boasted about the attack and posted the video on social media — where a number of users called police, prompting the wife's angry comments.
The 20-year-old woman, who was later picked up by the husband, told police he had claimed to be single.
Officers arrested the wife on suspicion of threat, bodily injury, injury, defamation, crime of intolerance, violence against women and torture.
If she is charged and convicted, she could face 10 years in jail.
Citations: Furious wife frogmarches a love rival NAKED through the streets after catching her in bed with her husband (MailOnline)