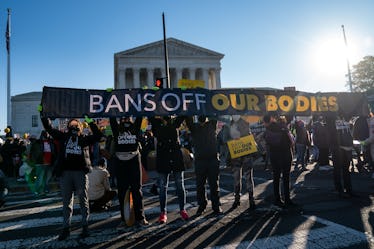 Here Are 14 Organizations To Donate To In Support Of Abortion Rights
They need all the help they can get.
Kent Nishimura/Los Angeles Times/Getty Images
On June 24, the Supreme Court released its decision to overturn Roe v. Wade in a 5-4 majority ruling. The decision fundamentally changes the United States' reproductive rights landscape, and not for the better. So, here's where to donate to support abortion rights all over the nation.
This decision doesn't just overturn Roe outright – it also threatens the logic and legal protections supporting birth control access, gay marriage, LGBTQ+ rights, and more. "Roe was egregiously wrong from the start. Its reasoning was exceptionally weak, and the decision has had damaging consequences," Alito wrote in the leaked decision draft, which Politico published back on May 2. "We hold that Roe and Casey must be overruled," he added. "It is time to heed the Constitution and return the issue of abortion to the people's elected representatives."
The Supreme Court's decision comes during a particularly hostile legal environment for reproductive rights in the United States. As of June 2022, 13 states — including Texas and Louisiana — have "trigger" laws in effect to immediately outlaw abortion in the absence of Roe. With seriously bleak news like this, it's important to remember there are still things you can do to help. Here are 14 places you can donate to in support of access to abortion, particularly in places that'll be hit hard by this decision.
This article was originally published on