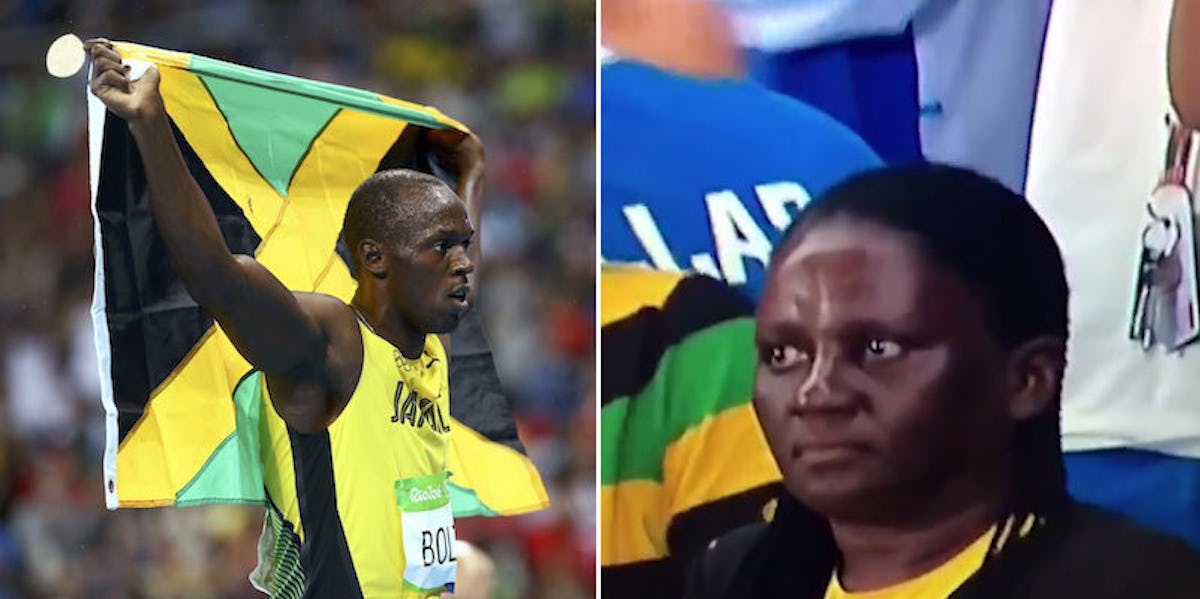 No One Looked Less Impressed By Usain Bolt's 8th Gold Medal Than His Mom
REUTERS/YouTube
Last night, Usain Bolt made history by being the first person to ever win three Olympic gold medals in the 200 meter.
A few days ago, he became the first person to win three gold medals in the 100 meter.
And he may soon become the first man to win three gold medals in the 4x100 meter relay, if Jamaica takes the title (which it probably will).
He has reached the pinnacle of athletic achievement, and his legacy will live on in the annals of track and field lore for decades and decades to come.
Bolt told The Guardian,
It's wonderful. Jamaica has proven that we are the greatest sprint country. I've got nothing left to prove. I've showed the world I'm the best and, right now, I just want to enjoy myself. This is my moment. I'll never forget this. Lane seven has been good to me these past couple of days.
And yet, there seemed to be one person who wasn't so impressed with him: his mom.
Here is a video of her watching her son immortalize himself by dominating, once again, all the competition the world had to offer.
Fun fact: This is the same expression my mom wore when I told her, one time, my kill/death ratio for a single match in Star Wars: Battlefront was 40 and 3 (which is, like, super good, Mom).
In the past, Jennifer Bolt has said of her son,
I would hope he'll settle down, get married and start his family.
Twitter felt Bolt's pain.
When you complete the Sprint Double 3 olympics in a row, but you've not settled down for marriage #JAM https://t.co/lByhb58t2u — Calabash. (@thisiscalabash) August 19, 2016
And they're right, on first glance, it seems like Bolt's mom is so used to him winning, she literally could not care less, but the truth is so much more heartwarming; she's probably just holding back tears.
She explained to CNN what it's like for her to watch his races, saying,
Oh I'm so overwhelmed ... the joy ... sometimes I cry. The tears are coming out within me. It's just tears of joy.
So, here's to you, Jennifer Bolt. Clearly, you did something right.
Citations: Metro