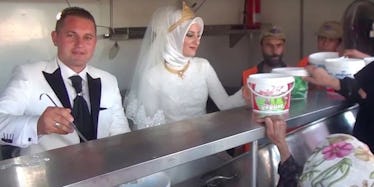 This Turkish Couple Used Money For Their Wedding To Feed Syrian Refugees
A Turkish bride and groom spent their wedding serving food to thousands of displaced Syrians.
According to Huffington Post, Fethullah Üzümcüoğlu and Esra Polat tied the knot last week in Kilis, Turkey, where approximately 4,000 Syrians are living due to the war-torn chaos engulfing their neighboring home country.
A traditional Turkish wedding lasts three days, The Independent reports, with the final night featuring a massive banquet.
The father of the groom, Ali Üzümcüoğlu, says he came up with the idea of inviting their "Syrian brothers and sisters" to the party because he believed they were far more deserving of a good meal.
He told The Independent,
I thought that sharing a big delicious dinner with our family and friends was unnecessary, knowing that there are so many people in need living next door.
So on Thursday, the couple took the money their families saved for the wedding and bought plenty of food for the refugees.
A food truck was provided by Kimse Yok Mu, a charity that supplies food to thousands of Syrians living in Kilis and the surrounding area.
The bride said she was initially "shocked" by Ali's idea but soon learned the value of what she called a "wonderful experience."
The groom said,
Seeing the happiness in the eyes of the Syrian refugee children is just priceless. We started our journey to happiness with making others happy and that's a great feeling.
He added some of his friends were in such admiration of his generosity, they are considering doing the same thing when they get married.
Here's a video of the couple, dressed in their wedding clothes, distributing the food to a huge group of Syrians.
Citations: Turkish Wedding Feeding Refugees (Huffington Post)