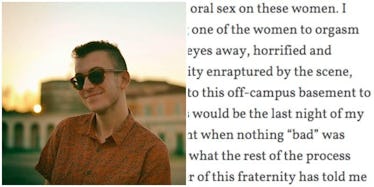 Frat Suspended After Student Details Graphic Hazing Of Watching Women Have Sex
Facebook/Tufts Observer
Tufts University suspended social activity of its fraternities after launching "multiple investigations of several Greek organizations," the Boston Globe reports.
Spring recruitment for both sororities and fraternities has been voluntarily suspended, and four frats were sent cease-and-desist orders by the university.
These suspensions come following allegations of hazing — which included assault — were published in the student publication Tufts Observer.
Junior Ben Kesslen wrote an op-ed for the Observer about his experience pledging "what was supposed to be one of the 'good' fraternities, one with nice guys and low-key parties."
On his first night of pledging, Kesslen and the other pledges were forced to watch two women have sex with each other in the basement of an off-campus house.
These boys named a bucket of urine and puke after a woman.
Kesslen, who identifies as queer, wrote,
When I asked to leave, I was told I could step towards the back but couldn't exit the basement. I was pressured to stay, and too afraid to defend myself. Forcing someone to watch sex acts can be categorized as assault under Tufts policies.
They then had to watch two 18-year-old men perform oral sex on the women.
The women left, and then the pledges were forced to stay in a room drinking alcohol until they completely memorized each other's names and allergies.
They were given a garbage can to urinate or vomit into and told to name the can. The men named it after porn star Mia Khalifa.
Keslen clarified,
These boys named a bucket of urine and puke after a woman.
Kesslen quit the fraternity the next day but was "warned" to not talk about what he had seen during pledging.
He chose to tell his story in an effort to "abolish" frats from Tufts. On top of his experience, Kesslen knows people who have been sexually assaulted and called homophobic slurs at fraternities.
After Kesslen's op-ed was published, the Tufts Panhellenic Council published their own op-ed.
This piece, from the group representing sororities on campus, was published in the Tufts Daily.
They thanked Kesslen for writing his piece and urged fraternities to adjust their "state of toxic hyper-masculinity" and "misogynistic attitudes."
The op-ed directly addressed fraternity brothers, saying,
You betrayed us. You lied to us. We have been in your houses and trusted that we had our safety. Our sense of artificial safety has been shattered. [...] We demand you take personal responsibility. Stop saying 'we're not like those guys.' Stop being defensive.
The Panhellenic Council wrote a list of demands for fraternities, which included having a Diversity Inclusion Chair and having a member of each fraternity attend every Inter-Greek Council Sexual Assault Task Force meeting.
We demand you take personal responsibility. Stop saying 'we're not like those guys.' Stop being defensive.
The sororities announced in the op-ed that they are suspending organized events with fraternities and sports teams (which "[echo] the misogynistic culture of hazing and pledging present in fraternities.")
The university has stepped up to change the damaging culture of the fraternities.
An email from administrators said that they were prompted to make changes following Kesslen's article. After it was published, the university received more allegations of misconduct.
In addition to suspending social activity, the university is now requiring all fraternities to have sexual misconduct prevention training, an alcohol education session and training with a national hazing prevention expert, the Globe reports.
Citations: Boston Globe, Tufts Observer, Tufts Daily