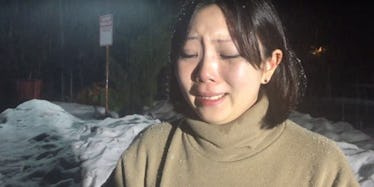 Trump Supporter Cancels Airbnb Reservation After Realizing Guest Is Asian
YouTube
What year are we living in again?
It's becoming quite hard to tell after a woman claims her Airbnb reservation was canceled when the host found out she's Asian.
According to NBC Los Angeles, a Southern California woman named Dyne Suh had her Airbnb reservation abruptly canceled by a racist host. Suh, who ironically studies race relations, was heading to Running Springs, California.
The travel time by car is anywhere from a 2- to 3-hour drive.
She planned to relax over Presidents' Day weekend with her fiancé and two other friends. As anyone would do, she searched Airbnb for the perfect home to accommodate their stay.
Unfortunately for her, the cabin she booked, listed as a "Tree House Loft and Private Bathroom," belonged to a racist who used Dyne Suh's race against her at the very last second.
After driving hours to Running Springs in dangerous weather conditions, Suh says she contacted the Airbnb host to confirm the details of her stay.
The woman says the host then abruptly canceled her reservation, saying,
I wouldn't rent to you if you were the last person on Earth. One word says it all. Asian.
During an interview with NBC 4's Hetty Chang, Suh says her "heart just dropped" after receiving the shocking text message.
The messages didn't stop there, either. Suh replied to the host saying she was going to report them to Airbnb. The so-called "host" didn't seem to care, though.
She told Suh to "go ahead." She then went on to say,
It's why we have Trump. And I will not allow this country to be told what to do by foreigners.
Um, what? Is this woman serious?! Unfortunately, yes.
Dyne Suh went on to tell reporters she's lived here in the United States since she was 3 years old. A teary-eyed Suh added,
This is home to me. No matter how long I've lived here, for me to be treated this way just because of my race...
When NBC 4 reporter Hetty Chang reached out to the racist pro-Trump Airbnb host, the woman said she had no comment and hung up on her.
Following the incident, Suh recorded a video describing her traumatic Airbnb experience while stranded in Running Springs.
The San Francisco-based company responded to Suh's complaint, deeming the host's actions to be "unacceptable."
Citing its non-discrimination policy, Airbnb has permanently banned the host, proving there is no place for racism in the world of short-term lodging (or anywhere else, for that matter).
Props to Dyne for handling such a bad situation the right way and not letting that "host" get the best of her!
Citations: Woman Claims Airbnb Reservation Canceled Over Racial Dispute (NBC Los Angeles)