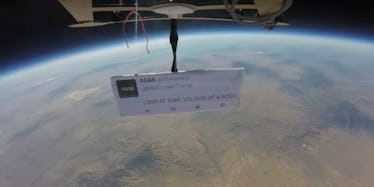 Trump Is Being Protested From Space For The First Time Ever So Yeah, It's Bad
YouTube
The worldwide protests against President Trump and his current hold on America just won't let up.
The first major showing of civil disobedience against the 70-year-old real estate mogul and reality TV star came in January during the Women's March.
Now, one organization is taking their protest strategy to all new heights -- literally.
The Autonomous Space Agency Network (ASAN) just trolled Trump beyond belief after they launched the first-ever space protest against his presidency.
No, this doesn't mean there are thousands of astronauts floating around our beautiful planet with "Trump sucks" signs and Guy Fawkes masks.
It means the ASAN just sent one of their viral anti-Trump tweets about 90,000 feet above Earth to protest the 45th president of the United States. Casual!
The tweet simply reads,
LOOK AT THAT, YOU SON OF A BITCH.
Well, damn! That's a lot more straightforward than the whole #NotMyPresident thing.
Check out the clip below of the Autonomous Space Agency Network launching (literally) its protest against President Trump.
Here's the history behind the famous one-liner.
While the Autonomous Space Agency Network protest is impressive, 90,000 feet isn't exactly space territory. The balloon attached to the tweet would need to ascend at least 330,000 feet to be in "proper" space.
As for why the ASAN is going so next-level with their protest against Trump, the president's recent policy proposals speak for themselves. The man wants to cut funding for NASA's Earth science program.
Now, why would he want to do that?
Well, it seems he doesn't think studying our home planet is that important.
That presumption is based on the Trump administration's preliminary budget cut overview, which hints at decreasing NASA's budget by 0.8 percent overall, according to Popular Mechanics.
That may not seem like a big deal, but it is when you realize the cuts don't stop there. The Trump administration also proposed to cut funding for the NOAA's satellite division by 22 percent.
Now would be a great time to send a massive billboard and thousands of protesting astronauts into space.
Citations: The First Ever Protest From Space Has Been Launched Against Donald Trump (Complex)