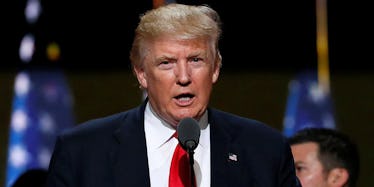 Trump Says Women Who Were Sexually Harassed By Fox CEO Are 'Complaining'
REUTERS
Guys, I have some big news for you!
Donald Trump is being totally insensitive and sexist... again.
We're going to have to give you some background so you know exactly what was so wrong with what he said this time.
Earlier this month, former Fox News anchor Gretchen Carlson pressed charges against Roger Ailes, her former boss, for sexual harassment and wrongful termination.
Since then, many other women have come forward to talk about the sexual harassment they faced as employees of Ailes. He recently resigned from his position as CEO.
So, what's Ailes going to do with all of this free time now that he has resigned? Maybe he'll give some advice to presidential nominee, Donald Trump, whom he considers a good friend.
In an interview with NBC News, Donald Trump was asked whether or not he would be seeking advice from his friend regarding his campaign.
Trump responded by saying he didn't want to comment, but then he went on to comment, like, a lot.
Read it for yourself here:
This is incredible: Trump says women sexually harassed by Ailes shouldn't be "complaining" because he "helped them." pic.twitter.com/xoYesqS3rg — David Harris-Gershon (@David_EHG) July 24, 2016
Apparently, ladies and gents, if someone also helps you get a book deal, it somehow cancels out the fact they sexually harassed you.
In fact, according to Trump, it is actually "very sad" that you would think it was OK to come forward and "complain" about your sexual harassment after your book deal.
Finally, he gets around to answering the initial question by saying, "But a lot of people are thinking he's going to run my campaign."
Then, if you read a little further in the actual interview, he goes on to interrupt the interviewer, Chuck Todd, to remind him, "My campaign's doing pretty well."
So maybe he doesn't even need Ailes. Or maybe he does.
We shall see.
Citations: Meet the Press - July 24, 2016 (NBC News)