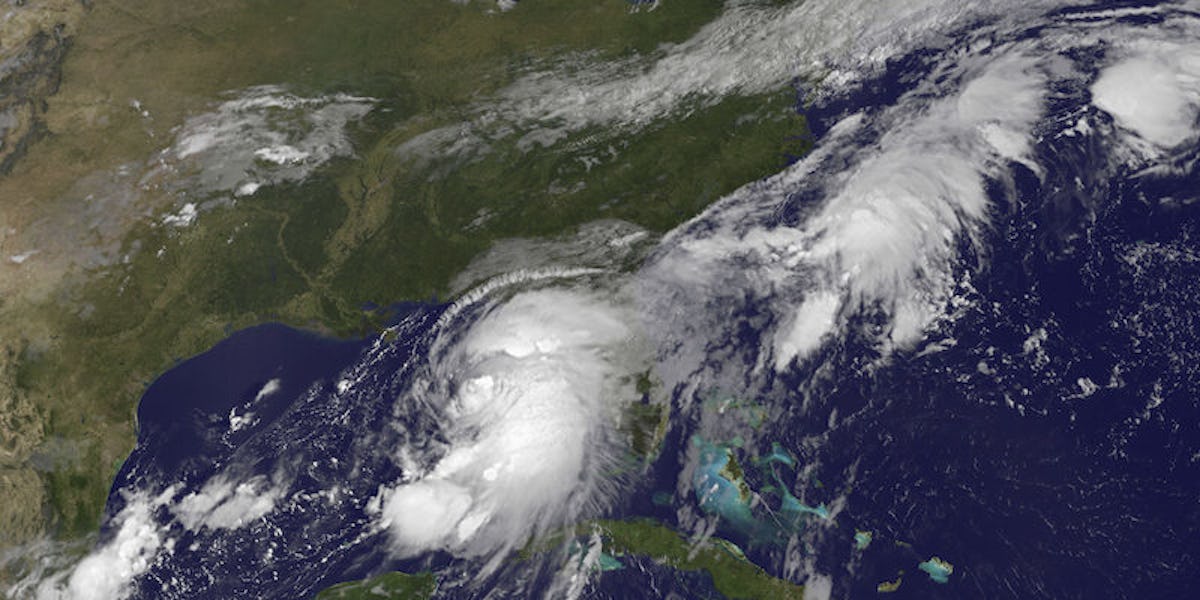 Here's How Tropical Storm Hermine Will Actually Affect Your Labor Day Weekend
REUTERS
Hurricane Hermine is striking the east coast this weekend, heading from Florida up toward New York.
The hurricane landed in Florida overnight on Thursday, and one man died in Marion County. The storm has been ravaging Florida with 80-mile-per-hour winds.
On Friday morning, Hermine weakened to a tropical storm as it headed toward Georgia. The center of the storm is expected to stay out in the Atlantic Ocean – rather than make complete landfall – and the beaches out on the east coast are on storm watch. There will be heavy rain and rough tides pretty much everywhere.
Basically, if you're planning to head to the beach anywhere on the east coast from Florida to New York this weekend, you might want to make alternate plans. It's coming slowly straight on through the coast until next week.
This is what the storm is projected to do as Labor Day weekend goes on, according to projections on Friday afternoon:
Friday night
By Friday afternoon, Hermine had passed Savannah, Georgia and was at Charleston, South Carolina.
The storm is continuing to head slowly up the coast over the Carolinas through Friday night.
Saturday morning
Hermine continues up the Carolinas on Saturday morning, getting to the middle of North Carolina by early Saturday morning.
As Hermine passes the Carolinas, it is projected to head a bit out into the Atlantic Ocean, getting north by Virginia.
Saturday night
At this point, the storm should be a bit out in the water near Virginia. Virginia has declared a state of emergency in preparation for Hermine.
According to Weather.com, Hermine will transform into a non-tropical or hybrid low pressure system overnight.
The storm will begin hitting Delaware and the Jersey shore by Saturday afternoon and evening.
Sunday morning
On Sunday, Hermine will be up near Delaware and New Jersey, bringing heavy rains along with it. (You'll probably want to stay off the beach.)
New York City mayor Bill de Blasio announced that the city's beaches will be closed on Sunday and possibly Monday.
Sunday night
By Sunday night, Hermine is projected to begin hitting New York.
Monday
Projections start getting a little dicey this far out, but expect coastal parts of New York to be hit with heavy rain, as the storm continues to peter out toward Connecticut.
Rain could go on until next Wednesday
So, keep your umbrellas handy if you're out on the east coast next week, especially in the tri-state area.
Heed the words of Chris Christie this weekend, and stay safe out there. Pay attention to your local news, and don't try to do anything stupid.
You don't have to go crazy, but think about getting candles and bottled water ready... just in case.
And honestly, now is a good time to make a drinking game out of Scrabble.
Citations: KTLA, ABC, Weather, Pix11, NJ.com, The Virginian Pilot