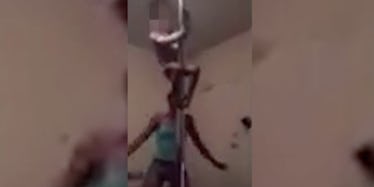 Mother Receives Backlash After Video Of Toddler Pole Dancing Goes Viral
Facebook
The mother of a toddler is receiving criticism from every angle after filming her daughter pole dancing.
The 18-second video, which was shared on Facebook, has been viewed over 280,000 times, and the internet doesn't know how to feel about it.
As soon as the video begins, the toddler can be spotted at the very top of the pole as her mother dances in support behind her.
The little girl then moves her body around in an inappropriate manner before sliding down the pole. Her mother then applauds her as if she just aced her first pop quiz.
Of course, the internet isn't sure how to emotionally process such hard-hitting news.
Is the mother wrong? Is she a good mother for teaching her daughter how to pole dance? Why does this woman have an actual stripper pole at her house? That can't be baby-proof.
There are SO many questions the world needs answers to.
Outraged commenters took to Facebook to express their disapproval. One man named Nick Lindsey said,
Newsflash folks, number one that's a child. She doesn't need any fitness classes. Two, pole dancing workouts are a choice. There are plenty of other ways to get exercise. This is disgraceful. And the fact they are recording and glamorizing this shows the child this is a way she can get attention. I'm sorry but if she wants to do that later in life when she is capable of making adult decisions, that's one thing. But to inspire a toddler to do things like this is horrible.
Another comment read,
This is not cool at all. But what can they really investigate? Yeah, I would say it's indecent exposure but that doesn't mean that the child is not fed, clothed and taken care of properly. I don't see neglect...? How do we know it's her child? It could be her sister... They both look young...
While most people were disgusted by the pole dancing video, there were still quite a few people who saw nothing wrong with the toddler dancing erotically.
One commenter voiced their support for pole dancing and called it a "good workout" despite the fact there are plenty of other workouts suitable for children her age.
Another commenter asked everyone to leave the woman alone and called the 18-second video a "bonding experience" between a mother and her child.
Again, there are quite a few alternatives to "bonding." Furthermore, the mother of this child didn't need to film the entire thing and post it for the world to see.
I'm sure we could have lived without knowing this stuff actually happens within some households.
So, what do you think? Is this video of a mother teaching her daughter how to pole dance highly inappropriate or is it just harmless fun? You be the judge!
Check out the video above.
Citations: 'This is horrible': Mother comes under fire after footage emerges of her toddler daughter POLE DANCING (but some people call it a 'bonding experience) (DailyMail.com)