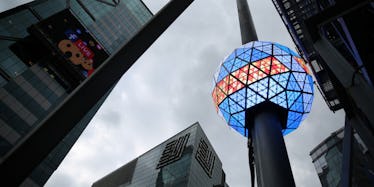 Sand Trucks And 7,000 Police Officers To Guard Times Square On New Year's Eve
REUTERS
Are you ready to ring in the new year or what?!
I know I am. Having lived in New York City for over a decade, I can say New Year's Eve means something entirely different to me than it does to the rest of the country and the rest of the world in general.
To me, it means three things: a brutal hangover, a ridiculous amount of traffic and, of course, Times Square. I mean, let's face it, no matter where you are, there's a good chance that you watched the ball drop in Times Square on TV.
I vividly remember venturing into the "crossroads of the world" several years ago and being blown away by the insane amount of security patrolling the area.
I also remember casually glancing up at rooftops and nearby balconies only to spot officers with sniper rifles overlooking the grounds below.
It turns out that was nothing compared to what's in store for those celebrating NYE in Times Square this time around.
According to USA Today, nearly 65 massive sand trucks will be used as "blockers" to secure the surrounding areas of Times Square to prevent a terrorist attack similar to the truck attacks that killed innocent civilians in Berlin and Nice this year.
In addition to the 20-ton trucks being used, about 100 New York Police Department vehicles will be on site along with over 7,000 police officers tasked with securing the streets of Manhattan during the big celebration.
An estimated 2 million people are expected to attend the New Year's Eve festivities in Times Square this weekend.
During a recent press conference regarding the event, Commissioner James O'Neill stated,
People will be safe this New Year's Eve because we're there along with our law enforcement partners. We're going to have one of the most well-policed, best-protected events at one of the safest events in the entire world.
The NYPD also made it clear to the public that there are currently no existing terror threats to the NYE celebrations in New York City.
O'Neill continued,
At this time, we have no direct concerns related to terrorism, to Times Square specifically or New Year's Eve in general.
The use of metal and radiation detectors will also be used to monitor those in the area as people pile into 65 pens designed to fit 3,000 people each.
NYC Mayor Bill de Blasio voiced his confusion about why anyone would want to stand in the cold for hours, saying,
I'm not quite sure why a million people want to stand in the freezing cold for long, long periods of time, but they do. And we'll be ready for them.
Yes, you certainly will, Bill... The people want to party! This is nothing new.
Thanks to helicopters monitoring the scene overhead, skilled bomb-sniffing dogs and plenty of undercover police officers blending in with the crowds, the people will be able to rage safely, according to the NYPD.
Police Commissioner James O'Neill added,
Can we ensure that nothing will ever happen? It's an open city. It's an open society... If you're coming down to Times Square, rest assured that it will be a safe venue.
When asked if President-elect Donald Trump, who is located at Trump Tower less than a mile away from Times Square, would be attending the New Year's Eve celebrations in Times Square, O'Neill said,
I don't think he's coming, but that might change, I guess.
Put your party hats on, people. It's time to kiss 2016 good-fucking-bye.
Be safe this weekend, and have a very happy new year, everyone!
Citations: Sand trucks to secure Times Square on New Year's Eve (USA Today)