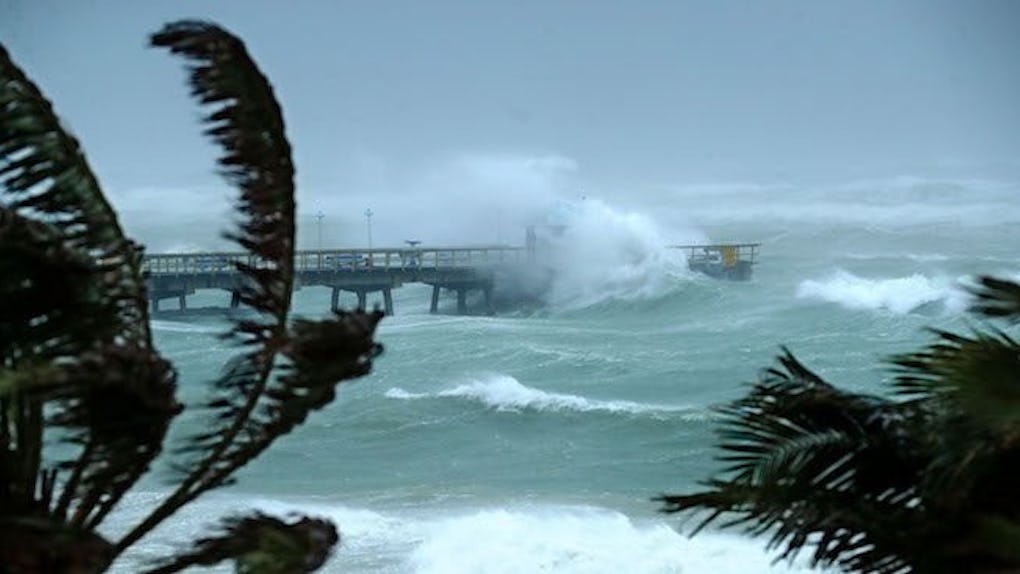 Chip Somodevilla/Getty Images
Photos Of Hurricane Irma Destruction Make It Clear This Storm Is Dangerous
For the second time in barely two weeks, a massive hurricane is hitting the United States. Hurricane Irma hit the Florida Keys on Sunday, Sept. 10 as a Category 4 hurricane, and as images of the damage roll in, it's become clear just how big a deal this storm really is. Photos of Hurricane Irma's destruction as it moved towards Florida on Saturday and Sunday show a path of devastation that is a forewarning for what's to come.
At least three people had been reported dead in Florida by Sunday afternoon, according to ABC News, in addition to the 27 people reported killed across the Caribbean. Approximately 116,000 people are in shelters across the state, with 30,000 people in Miami-Dade county alone using a shelter as refuge. Across the state, more than 2 million people were without power by 4p.m. Officials said that they estimated about 3.4 million homes and businesses would lose power across the state when the worst of the storm hits, according to the Associated Press.
And now, Hurricane Irma creeps further up the mainland United States, hitting the Florida Keys early on Sunday and making its way up the Florida coast. In Miami, which missed a direct hit, photos and videos showed breached sea walls, heavy flooding, and intense winds.
In Miami, at least two construction cranes toppled under the force of the storm, and in Tampa, the waters of Tampa Bay had been dragged so far away from shore that residents were walking around on the barren bay, per the AP.
And shortly before 4 p.m. ET on Sunday afternoon, as the storm made landfall again on Marco Island, outside the city of Naples, Florida as a Category 3 hurricane.
Now, Hurricane Irma's current path is predicted to see it move steadily up the western side of Florida, over the panhandle, and then make its way northwest over the continental United States, hitting Georgia, Alabama, and Tennessee.
The damage is coming on the heels of overwhelming destruction across the Caribbean.
Hurricane Irma has been pounding the Caribbean for days as a Category 5 hurricane, destroying communities across the region. In the tiny island of Barbuda, 95 percent of the island's buildings were damaged after the storm hit early on Sept. 6, leaving the island "barely habitable," according to the BBC. The island's remaining residents were evacuated on Sept. 8 under threat of a second storm, Hurricane Jose.
In Puerto Rico, though the island was spared a direct hit, nearly 70 percent of households were without power after the storm knocked out the power grid, and hundreds of people lost their homes. Images of the Cuban capital of Havana showed residents wading through waist-high water.
In Cuba, videos showed the force and the destruction of the then-Category 5 storm.
In the days and hours before Hurricane Irma hit the U.S. mainland, Florida officials urged residents to evacuate. Florida Gov. Rick Scott issued a statement on Sept. 8, encouraging those in evacuation zones to get out while they could. He said,
This storm is life-threatening and an imminent threat to our state. Not following evacuation orders could cost you your life. ... After noon tomorrow, it will not be safe for anyone in these coastal counties along the west coast to travel and it will not be safe for the law enforcement officers who will need to rescue you. ...  I cannot be more clear- this storm is unlike anything our state has seen and Floridians must take action to stay safe. Do not risk your life or the life of your loved ones.
And by Sunday afternoon, it seemed obvious just how true that really was.
Though the storm isn't over, it already seems clear that those affected are going to need some significant help recovering.
If you're looking for ways to contribute to those affected or displaced by the storm, check out some ideas for how to help. Because while thoughts and prayers are heartwarming, they don't help people put a roof over their heads or food in their bellies.