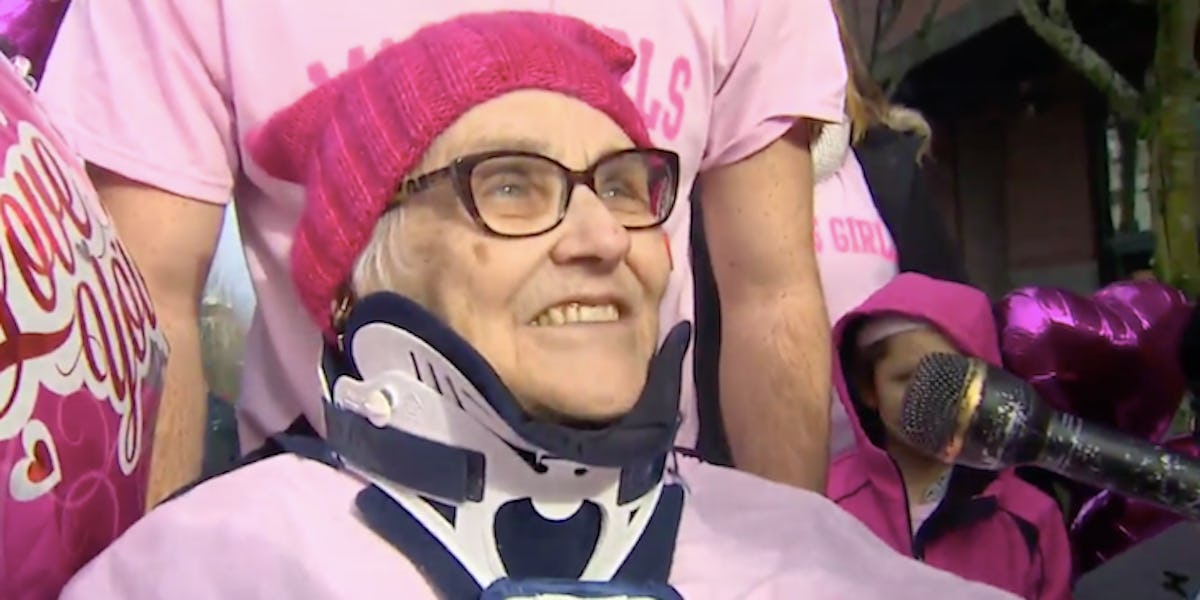 Terminally Ill Grandma Asks Doctors To Keep Her Alive For Women's March
King 5 News
Women of America and across the globe -- you crushed it on Saturday.
But the fighting spirit shown by millions of people who took part in the Women's March is embodied most perfectly by one woman -- great-grandma Mary Tanasse.
87-year-old Mary lives in a hospice. She has terminal ovarian cancer.
But when she heard women across the country were coming together to protest, she was given all the inspiration she needed to keep fighting the illness -- and she made sure her doctors knew it, too.
Adding the march to her bucket list, Mary was well enough to be pushed in a wheelchair by her grandson at the protest in Olympia, Washington.
Not only that, but Mary summoned the strength to voice her message through Seattle's King 5 news, telling them she asked doctors and nurses to help her go to the march.
She said,
I asked them, "Please let me live until this march," because it was so important for me to model what I feel is right for my family. I can't ask more than that.
With nine kids and 27 grandchildren and great-grandchildren, Mary has a huge family.
They had originally planned to march in D.C. but changed their plans when they heard the head of the family wanted to come along, despite her illness.
Mary added,
I made it and it's a beautiful day. I praise God and hopefully the nation will make an impact so we'll all be heard.
You sure did make it, sister.
Badass grandmas have been a major part of the Women's March, stealing the show with some of the best signs as they stood up for women's rights.
They did it for their loved ones.
They reminded us age is just a number.
Even the famous grandmas got involved.
Seriously, they were strong AF.
Look, you really don't want to piss them off.
And they had some advice for the first lady that can only come from another woman.
Thanks, grandmas, for being such an inspirational part of the day.
Citations: 87-year-old hospice patient asks doctors to let her live until Women's March (Mashable)