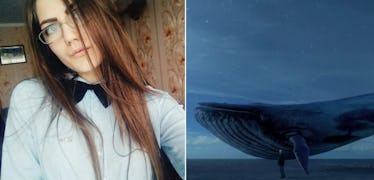 Teens Are Committing Suicide In Final Level Of Viral Dare Game Called 'Blue Whale'
Instagram
Russian teenagers are reportedly committing suicide as part of a disturbing social media game.
Police in Russia are investigating several recent suicide attempts, in which teens may have been manipulated by sinister social media groups.
The game is called Blue Whale, and it apparently asks teens to complete awful tasks, such as cutting themselves and carving words or symbols into their arms.
On day 50 of the game, the teens are instructed to kill themselves.
According to Daily Mail, Yulia Konstantinova, 15, and Veronika Volkova, 16, jumped from the roof of an apartment block in industrial Ust-Ilimsk and fell to their deaths on Sunday.
Konstantinova and Volkova are just two of many similar cases seen in the area.
The Russian Investigative Committee is looking into whether the controversial social media game has heavily influenced victims to take their lives:
Investigators checked the scene, the homes of the minors, and interviewed relatives and friends of the victims, to establish the motives. Particular attention during the investigation of the criminal case will be given to the study of their social contacts on the Internet.
Konstantinova left a note saying, "End," on her Vkontakte (VK) social media page before her tragic death.
A few weeks back, she posted a picture with a big, blue whale, which has been seen repeatedly as a symbol of the social media movement encouraging young people to take their own lives.
Russian reports say teenagers influenced by the bizarre game are told to watch horror movies all day and to wake themselves up at 4:20 am. They're also urged to use knives or razors to make the shape of a whale on their wrists or legs.
Last year, alleged ringleader of the movement, Philip Budeikin, 21, was detained, and he has since been charged with organizing eight groups between 2013 and 2016, which appear to promote suicide among teens.
After Budeikin's arrest, there appeared to be a reduction in these types of cases, though there is newfound fear vulnerable teenagers are still being swayed by the barbaric social media accounts.
Investigative newspaper Novaya Gazeta reported last year,
We have counted 130 suicides of children that took place between November 2015 to April 2016. Almost all these children were members of the same internet groups and lived in good, happy families. We know absolutely for sure is that adults are working with children, with the help of knowledge of their habits and passions, using their favorite language and culture.
Investigations still haven't quite gotten to the bottom of these tragic cases, but this social media movement is certainly one of the more disturbing trends anyone has ever seen.
Citations: Fears that Siberian suicides were 'manipulated by sinister social media masterminds' (The Siberian Times)