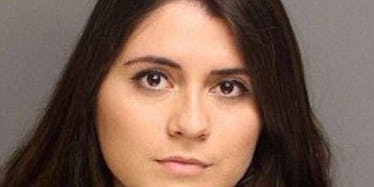 Teen Caught Lying About Rape For 'Sympathy' From BF After Sexts Found On Phone
Bridgeport Police Department
Nikki Yovino, an 18-year-old student from South Setauket, New York, has just been charged with making up false rape allegations against two Sacred Heart University football players.
It's believed the teen fabricated the story about the alleged sexual assault so she would "get sympathy" from a prospective boyfriend.
As a result of her false accusations, Yovino was arrested and now faces charges of falsely reporting an incident as well as tampering with or fabricating physical evidence.
Back in October, the student accused two Sacred Heart football players of attacking her and raping her in a bathroom at an off-campus party.
While both of the football players admitted to having sex with Yovino, the men insisted the sexual acts performed with Yovino were consensual.
Yovino denied this, allegedly telling police she told the two men,
'I don't want to be in here, I don't want to do anything. My friends are waiting for me outside, let me go outside.'
The teen was caught lying about the rape to get sympathy from her prospective boyfriend after sexts were found on her cell phone.
According to reports from WABC-TV, Captain Brian Fitzgerald claims another student told police Yovino had sent explicit text messages to the two football players prior to the alleged incident.
Other students at the off-campus party also reported Yovino had gone into the bathroom with the two men willingly and one man even recorded a short clip of the alleged "sexual assault" on a cell phone.
Legal documents reveal,
She admitted that she made up the allegation of sexual assault against (the football players) because it was the first thing that came to mind and she didn't want to lose (another male student) as a friend and potential boyfriend. She stated that she believed when (the other male student) heard the allegation it would make him angry and sympathetic to her.
Despite the incriminating evidence in the text messages, Mark Sherman, Yovino's lawyer, told The Connecticut Post his client maintains her innocence and is sticking by her original story of the incident.
Yovino has since been released from police custody on bail.
However, Yovino could face up to five years in jail if she is found guilty of the false rape allegations.
Citations: Woman 'lied that she'd been raped by two footballers to get sympathy from prospective boyfriend' (Metro)