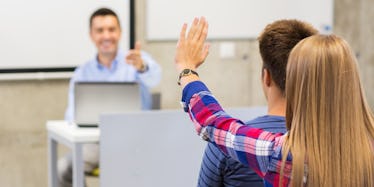 Schoolgirl Tries To Kill Herself After Teacher Forces Her To Pee In A Bucket
Shutterstock
A high schooler who was wrongfully denied a bathroom break by her teacher and was forced to pee in a bucket just hit the jackpot after a jury awarded her $1.25 million.
The incident took place back in 2012 at Patrick Henry High School in San Diego. The girl, who was 14 years old at the time, had been attending her 25-minute class when she felt she needed to use the restroom.
Rather than granting her permission to do so, art teacher Gonja Wolf instructed her to use a bucket inside of a supply room instead. Wolf's reasoning was based on the fact the class was already short enough.
Granting the student permission to use the bathroom during a shortened period would have been against school policy, Wolf believed. Instead, she forced her to pee in a bucket, and the traumatic experience scarred her for life.
According to DailyMail.com, the student's lawyer says the girl was teased and harassed by fellow classmates following the incident, which prompted the girl to sue the San Diego Unified School District and Ms. Wolf.
The report states district lawyers insisted Wolf never intended to humiliate her student.
Instead, they insist Wolf was simply trying to resolve a situation despite what she thought were strict rules against using the bathroom during short class periods at Patrick Henry High School.
An attorney representing the school district named Katheryn Martin said Wolf had a "lapse of judgment" and "she thought" instructing the student to use the bucket instead of wasting class time was a "good idea."
Court documents state art teacher Gonja Wolf says she even used the bucket a few times during late nights at the school.
Following the incident, the student was "forced" to transfer schools on two separate occasions after being denied the $25,000 she was originally seeking before being awarded her latest settlement.
Despite various claims defending her actions, Wolf and the school district eventually lost the legal battle, which resulted in the student being awarded $1.25 million in damages and $41,000 to fund medical expenses.
In defense of the girl, attorney Brian Watkins spoke to the San Diego Union-Tribune, saying,
Something like this never should have happened to a 14-year-old girl just entering high school. She took the stand and told a really embarrassing story, she told the jury how this has affected her life and how she is still working through issues.
The student is now 19 years old, has earned her diploma and has a stable job. She's also said to be attending therapy sessions after attempting to commit suicide because of the 2012 incident.
Citations: High school student who attempted suicide after she was denied a bathroom break and was forced to urinate in a bucket is awarded $1.25million (DailyMail.com)