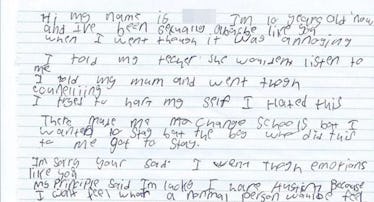 Teacher's Disturbing Reply To 3rd Grader's Sexual Abuse Revealed In Tragic Note
Metro.co.uk
Following his own traumatic experience, a young boy has written an open letter to other victims of sexual abuse as a way to offer his support.
The 10-year-old boy, who cannot be named, alleged he was targeted on a daily basis by his attacker for a period of three weeks back in 2014.
The boy, who lives with high-functioning autism, was ignored by the multiple teachers he spoke to about the incident. He eventually told his mother another boy "touched him when he went to the toilet."
He began the open letter,
Hi my name is [name redacted] I'm 10 years old now and I've been sexually abused like you. When I went through it it was annoying. I told my teacher she wouldn't listen to me. I told my mum and went through counseling.
The boy, who also wrote he had tried to hurt himself in the past, was forced to switch schools, "but the boy who did this to me got to stay."
He also claimed his principal told him he was lucky he was autistic because he "wouldn't feel the impact" of his trauma the same way as other children would.
However, the boy's open letter clearly demonstrates he continues to feel the pain of his abuse three years after the fact.
He has reportedly changed schools twice in an attempt to avoid his attacker.
His mother eventually received a phone call from a counselor, who claimed her son had said he wanted to kill himself.
She told Daily Mail Australia,
I just want him to be safe so I have kept him home. A few days later I got a call from the truancy officer who told me that I had to send him to school or they would bring police to my door step to make them go. They threatened me with having the kids taken off me – but the only reason he is scared of going to school is because the system let him down in the first place.
The 10-year-old boy said his abuse began on only the second day of school, when he was in third grade.
At the time, his mother said she noticed her son would cry before school and refuse to go. However, she was explicitly told by truancy officials and teachers to continue taking her son to school.
The boy's attacker allegedly threatened to kill him if he told anyone about the abuse.
As a result, the boy's family saw his anxiety and fears manifest in several ways at home. He went through a phase of compulsively locking all the windows in the house, and he took to sleeping on the floor.
The boy's mother, who feels she has been let down by the education department, has since decided to home-school her son.
She said,
He calls home his safe place which is why I am letting him stay here, I am going to home school him. I'm afraid if I force him to go back to school he just wont wake up one day.
Daily Mail Australia reached out to the Department of Education for comment, but a spokesman said it was unable to provide information on the specific case.
Citations: Victim of sexual abuse writes open letter to other children who have been abused (Metro.co.uk), 'I tried to hurt myself': Heartbreaking note by boy, eight, who was sexually assaulted by his 'buddy' in the school toilets - leaving him too terrified to return to class (Daily Mail Australia)