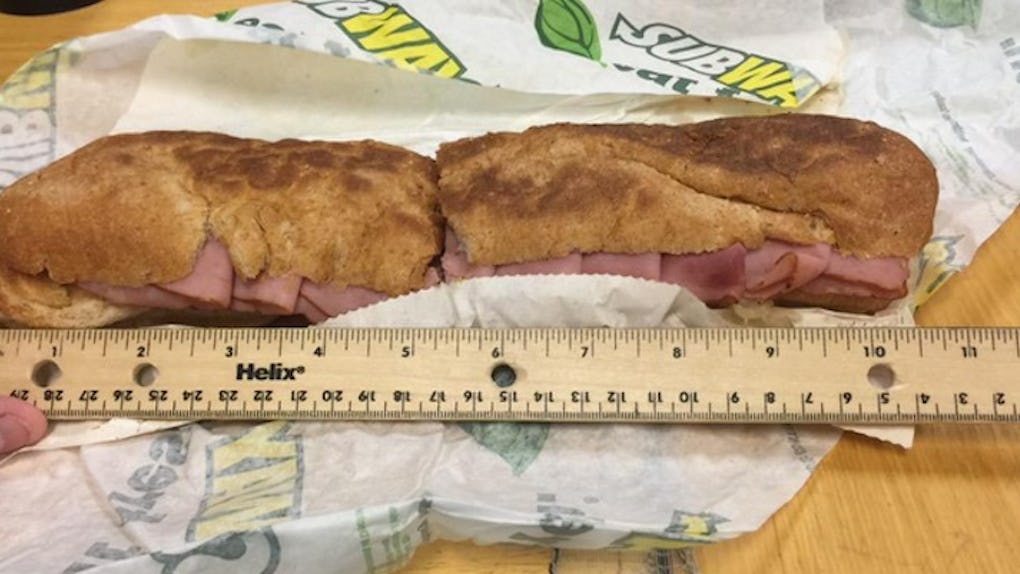 Twitter
Subway Says Its Footlong Sandwiches Will Now Be A Full, Delicious, 12 Inches
Subway has been through the ringer over the last year.
The chain's spokesman of 15 years, Jared Fogle, recently admitted to child pornography and traveling to have sex with minors since 2008. Subway cut all ties with Fogle, but subsequent allegations by ex-franchisee-owner Cindy Mills suggest company executives were made aware of Fogle's pedophilia after he spoke openly about it in a conversation with Mills.
Subway's sales have also shown a steady decline since 2014, according to industry tracker Technomic, as it battles competitors like Chipotle and Chik-fil-A.
And on Monday, Subway finally reached a settlement proposal for a lawsuit that dates back more than two years.
The lawsuit, resulting from a consolidation of numerous plaintiffs from various courts in 2013, was sparked when an Australian teenager posted a photo on Subway Australia's Facebook page showing a Subway Footlong measuring only 11 inches.
@SUBWAY yo what is this crap its only 11 inches didnt you get sued because of this? Hope your wallet is full pic.twitter.com/BNC49P9WcS — Now Sponsoring! (@CommGamers_RT) July 10, 2015
According to September court documents, the company will now work to ensure its Footlong and 6-inch subs are true to their names, measuring a full 12 and 6 inches, respectively.
As the release also stated, Subway will pay attorneys' fees, up to $525,000, and awards to plaintiffs, up to $1,000, as a result of the class-action suit.
January marks the final hearing for settlement approval.
Citations: Subway's Latest Challenge: Getting Out From Jared's Shadow (Hartford Courant), Subway nears settlement in Footlong lawsuit (Nation's Restaurant News), Franchisee: Subway execs knew about Jared Fogle's interest in children (USA Today)