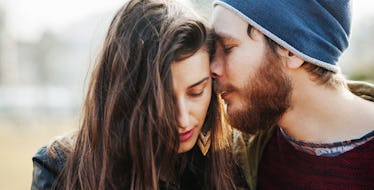 Having A Crush Outside Your Relationship Can Actually Be A Good Thing
You may believe you need to keep your eyes to yourself when you're in a committed relationship, but it turns out, that's not necessarily the best thing to do.
In fact, having a crush on someone other than your significant other may actually be good for your relationship.
A study published earlier this month in the Journal of Sex & Marital Therapy found having feelings for someone other than your boyfriend or girlfriend is fine and actually healthy.
Sexual health researchers from several American universities surveyed 160 women in long-term relationships between the ages of 19 and 56.
The survey consisted of mostly open-ended questions, and it found more than 70 percent of women admitted to having crushes while in their current relationships. For most, the eye candy was discovered at work.
Very few of these women, however, reported being concerned about their desires, and the vast majority reported it had literally no impact on their relationships.
Some even said wanting someone else made them want their own partners more, oddly enough.
Of course, how good a crush is for your relationship depends on how you handle it; acting on your impulses is, unsurprisingly, not helpful, and the positive impact of being attracted to someone else remains only if you enjoy your crush from afar.
A crush, the authors hypothesize, increases a woman's sexual desire. For single women, this might lead to sex with said crushes, or at least attempts to spark romantic relations with them.
But, women in relationships behave differently. They tend to funnel their urges away from the objects of their lust and onto their partners, thus boosting intimacy.
So, if you're crushing on your coworker, don't fret. In fact, continue crushing, and let your partner soak up the glory. Trust me, he or she won't complain.
Citations: How Your Work Crush Can Improve Your Marriage (Bloomberg)