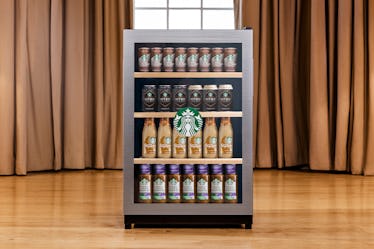 You Could Win A Year's Worth Of Coffee With This Starbucks TikTok Challenge
You'll also score a video ~moment~ with Chance the Rapper.
Courtesy of Starbucks
There's a new TikTok challenge with Chance the Rapper that could win you a year of free Starbucks coffee, and all you have to do is make a video on the app you're probably already scrolling on. Starbucks' #MadeReadyDuet challenge is all about hyping up Starbucks stans in their big and little life moments, and to enter, you'll join Chance the Rapper for a duet on TikTok. If you're ready to get creative for a chance at free Starbucks coffee, here's how to enter Starbucks' #MadeReadyDuet TikTok Challenge.
Starbucks kicked off its #MadeReadyDuet TikTok challenge for a year's worth of Starbucks sips with a video featuring Chance the Rapper on Monday, June 28. Aside from its in-store menu, Starbucks can keep you going with its at-home options of bottled and canned coffees that are ready for you whenever you want a pick-me-up. Since Starbucks knows how to give you a convenient caffeine boost, the brand also wants to make sure you're "made ready" for life's small and big moments.
You have until July 11 at 11:59 p.m. ET to take part in the challenge by creating a duet with Chance the Rapper's TikTok video, which features his new original sound "MadeReadyDuet." In the duet, you'll want to showcase how you pump yourself up for "Made Ready" life moments, like that big work presentation or getting ready to head to a concert with your crew, using the hashtags #MadeReadyDuet and #contest. To be considered, make sure the only music featured in your duet is the "MadeReadyDuet" song from Chance's video and that you're the only person in the video (unless you have written permission from the others in your video).
The brand will judge 200 randomly selected entries on their "originality/creativity, quality, and appropriateness to the public image of the sponsor," per the official rules. If you're a winner, you'll be notified by a DM from the Starbucks account on TikTok.
There's one grand prize and two runner-up prizes up for grabs. If you score the grand prize, you'll get a mini-fridge that's stocked with one year's supply of Starbucks' canned and bottled drinks (which is defined as $108 worth of sips each month for a year). You'll also get to meet with Chance the Rapper via a one-on-one "video moment," as Starbucks is calling it. If you're a runner-up winner, you'll get the year's worth of Starbucks sips and a "personalized shout-out" from Chance. The approximate retail value of the grand and runner-up prize is $1,666 each.
Since Starbucks' #MadeReadyDuet TikTok challenge officially ends July 11, you'll want to unleash your inner star in a duet with Chance ASAP.