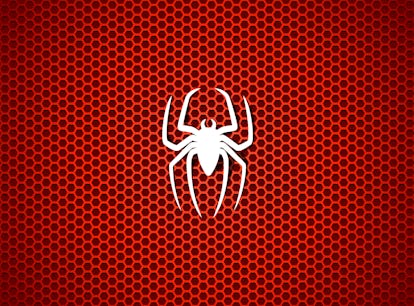 Channel Your Inner Spider-Man With These 11 Filters On IG, Snapchat, And TikTok
With great filters comes great responsibility.
Shutterstock
The wait for Spider-Man: No Way Home finally ended with the film's release on Dec. 17, and your favorite apps have the filters to help you celebrate. Whether you're looking to live out your fantasies of being a part of the MCU, or just looking for a laugh, the 10 best Spider-Man filters on Instagram, Snapchat, and TikTok are sure to light up your day. And don't worry — there are no spoilers ahead.
Without giving anything away, Spider-Man: No Way Home is filled with classic Spider-Man moments, like shooting webs to swing from building to building across NYC (I promised no spoilers, didn't I?). After you see the film for yourself (or if you're just in the mood for some filter fun), you can channel your inner superhero and turn yourself into Peter Parker's alter ego with these interactive Spider-Man filters from IG, Snap, and TikTok.
You can easily search Instagram filters from your Story Camera when you find the Spidey you want to imitate. On TikTok, find a filter by tapping "Discover" on the bottom of the screen and searching the name of filter.
Lastly, to up your Snap game with some Lenses, open the app and navigate to the camera. Tap on the screen to make the Lens carousel appear, and scroll through to find your filter. If it's not there, tap on the magnifying glass in the top-left corner and search the name of the Lens in the search bar. Select the effect you want and you're ready to go.
Whether you're a total Spidey stan, or just endlessly fascinated by his dance moves, there's a filter for you.
Trust me when I say, there are plenty more Spider-Man filters that will help you share your excitement with your followers. Try them out for yourself, or share them with your friends — the choice is up to you.