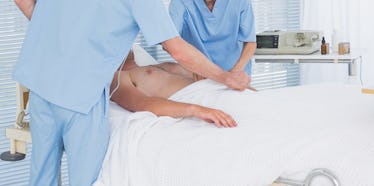 Soldier Is About To Have The First Penis Transplant Performed In The US
Shutterstock
A soldier who was severely injured in Afghanistan is set to undergo the first penis transplant to take place in the US.
The experimental surgery will be performed within a year at Johns Hopkins School of Medicine in Baltimore, Maryland, according to The New York Times.
It involves the penis of a deceased donor being grafted onto an unnamed soldier, one of 1,367 men who sustained serious damage to their genitals in Iraq or Afghanistan between 2001 and 2013.
Surgeons led by Dr. W. P. Andrew Lee, the chairman of plastic and reconstructive surgery at Johns Hopkins, will spend 12 hours connecting two to six nerves, as well as six or seven veins and arteries, in a procedure estimated to cost the hospital between $200,000 to $400,000.
The team expects the unnamed soldier, who was injured by a bomb, to develop the ability to urinate normally and have sex in a matter of months.
Of penis transplant recipients, Dr. Lee reportedly said,
Some hope to father children. I think that is a realistic goal.
The extent of the soldier's injury is not clear, but his recovery rate will depend on it as more severe injuries require more nerve growth from the recipient.
Possible side effects include bleeding, infection and an increased likelihood of developing cancer due to the medication the recipient will take to prevent him from rejecting the new organ.
This medication reportedly suppresses the immune system and will have to be taken for the remainder of the recipient's life.
Dr. Richard J. Redett, a member of the surgical team, reportedly said a donor was not selected, but the patient will be placed on the transplant waiting list soon.
Penis transplants will at first be only available to wounded veterans, but Dr. Lee believes transgender individuals could be able to seek the procedure after several patients report successful recoveries.
According to The New York Times, doctors said when soldiers wake up from surgery, the first thing they want to know is whether or not they lost genitalia.
Scott E. Skiles, the polytrauma social work supervisor at the Veterans Affairs Palo Alto Health Care System, reportedly said,
Our young male patients would rather lose both legs and an arm than have a urogenital injury.
The world's first penis transplant was performed in South Africa last year on the young victim of a botched, ritualistic circumcision. He recently had his first child, The New York Times reports.
Citations: Penis Transplants Being Planned to Help Wounded Troops (The New York Times)